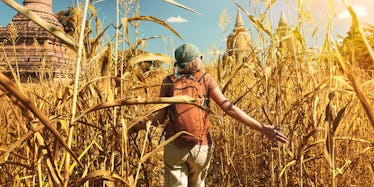 10 Badass Ways To Travel The World On A Budget But Without Making Sacrifices
Shutterstock
For the past 8 months, I have been traveling the world solo.
Here are my best ideas for traveling on a budget without making any sacrifices.
1. Swap hotels for hostels and Airbnb spots.
Airbnb is obviously a clear favorite in affordable accommodation.
But let's be real here, hostels have a bad rep.
Usually the word "hostel" brings one of two thoughts to mind: Belligerent 19-year-old Australians having sex on the bunk above you, or serial killer movies.
But, I promise you, hostels are so much more.
Hostels are the best and cheapest places to stay for solo travelers and friendly groups alike, as common rooms are the best place to meet people on the road.
There are also wonderful innovations called "boutique hostels" that are, essentially, boutique hotels with bunk beds where you split the cost of a room with a few others and get to enjoy the perks of a boutique hotel.
2. Travel in your car, 2.0 version.
If you are not up for renovating an Airstream or trailer but still want to have an amazing road trip, look into renovating your car.
Or, you know, simply toss a storage drawer, mattress, and portable mini fridge into a truck.
Some college kids even renovated a school bus called SerendipitiBus, which travels the world and makes me feel all sort of Millennial MTV cribs vibes.
3. House sit for someone.
There are several online communities, such as housecarers.com and nomador.com, that allow responsible travelers to watch over homes while owners are away.
Typically, this involves taking care of a few pets and maintaining the house, in exchange for a completely free place to stay.
Some of these homes are stunning and located in awesome countries such as Switzerland and Costa Rica!
4. Work trade.
Online resources such as WWOOFING and HelpX allow travelers to stay at local homes in exchange for work.
Typically this involves maintaining or building properties, helping with hotel or restaurant guests, farming, or website building.
Sometimes, daily meals or car uses are also included. This can be an awesome opportunity, especially in places such as Argentina and Bali!
5. Travel in a renovated Airstream
Okay, I must admit, this is my (not so secret) dream.
I mean, look at this. What's not to like about it?
Used airstreams can often be found on Craigslist or Ebay for under $5,000.
After you buy it, just put a little love, TLC, and heavy renovation work to build the traveling home of your dreams. Then, you are free to hook it up to the back of your car and travel the world (Alaska to Patagonia, anyone?).
The initial investment of time and money can be a lot, but afterwards you essentially have a rent-free traveling home!
6. Take advantage of money-saving sites.
Many online platforms have algorithms that allow you to find the cheapest travel deals on the internet.
One of my favorite sites for this is momondo.com, which allows you to view the best flight deals by price, speed, and overall ratings.
7. Teach abroad or work remotely.
Obviously, the most affordable way to travel is to make money during the process.
Get a job online, create your own ecommerce business, or teach abroad.
8. Travel light.
You'll be surprised how much money you save if you travel with a carry-on bag only, especially if you travel on budget airlines.
Some low cost airlines charge upwards of $50 per checked bag, per flight. It can add up to a lot.
Travel light. Your wallet will thank you.
9. Volunteer.
My favorite way to travel cheap is to volunteer!
There is no better way to experience culture than to live in a local community and work with the people around you.
One of the best programs for affordable volunteer work is IVHQ.
One word of caution: As you do your research, be wary of which programs you volunteer with. Many end up costing more than it would to simply stay at a Guest House and find your own volunteer work.
10. Use your credit card miles!
If you are going to have a credit card (which all badass Millennials should have, simply to build credit), you should get rewarded for the money you spend.
That's why credit card reward programs exist, and they're awesome.
Often times, simply signing up for a credit card will give you enough reward points for a flight from the United States to Europe.
Starwood Preferred Guest card even gives you points to stay at swanky hotels like the W in Goa, India.
Simply put, have your money make money for you.
Now, what are you waiting for? Start planning your travels!