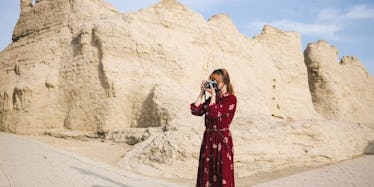 9 Travel Hacks That Will Help You Save Tons Of Money On Your Summer Trip
zheng long
I've been traveling consistently for the past 11 years.
I went on trips all throughout college, and then I lived abroad for about three years after that.
Thinking about all of the money I've spent on travel kind of makes me cringe. I never took the time to track it all, but I am assuming it would measure up to be way more than I need to pay off my current student loan debt.
While I know the ins and outs of travel, it wasn't until recently that I started to get into travel hacking.
It always seemed like too much work, but now, I'm starting to regret my laziness.
If you want to start off your travel life right, here are nine travel hacks I wish I started using years ago:
1. Traveling to less expensive countries
My first long-term trip was when I went backpacking through Western Europe. It took me about a year to plan, a lot of extra shifts to save the money and tons of supplies for Christmas gifts.
I made it work and went for six weeks to some of the most expensive places in the world.
Paris, London, Berlin and Amsterdam were all incredible, but I missed out on some of the experiences because I was trying to save on cash.
Living the poor backpacker life was an experience in itself, and I certainly don't regret it. But, I could have seen much more if I went somewhere cheaper like Asia or South America.
Looking back, maybe it would have been a good idea to save Europe for a time in my life when I had more money.
2. Secret flight searches
Apparently, airline websites save your cookies and charge higher prices just because they know you've visited the site before.
I had no idea this was a thing back in the day and probably could have saved loads of cash just by clearing my cookies or using a secret browser.
3. Credit card points
I could have been racking up so many points during my college days, but I had no idea there were credit cards that helped you earn points for travel.
Just by spending money on everyday things and monthly bills, you can earn points to trade in for free flights and hotel stays.
There are SO many resources out there now that have uncovered all of the crafty ways people can get travel points through credit cards.
This article lays out exactly which cards are best for people who stay in hotels often, and there are pages of articles out there that help people figure out the best cards for scoring free flights, car rentals and more.
Why didn't I know about this when I was younger?
4. Traveling to see friends
For a good part of my travel life, I was really concerned with seeing certain destinations and tourist attractions.
Now, I realize my love for travel trumps my need to see a specific place, which leaves me more open to random opportunities.
I have a friend living in Idaho right now, and while I don't exactly know what there is to see and do there, I do know I haven't visited the state before. And it would be a good opportunity to travel.
By visiting my friends in different places, it saves me money on accommodation, food and transportation.
Plus, I always end up having a better time because I am with someone I know.
5. House-sitting
If I want to go somewhere where I don't have a friend to visit, house-sitting seems like an amazing option.
I still haven't tried this one out, but it's on my list.
I see tons of travel bloggers using this resource to save money and get a local experience in the places they visit.
There are sites that let you make a user profile and then connect with locals who will be away and need someone to stay in their house, do a few chores and look after their pets.
The stay is free, and there are other perks like getting the use of the family car and having access to a full kitchen where you can cook your own meals.
6. Traveling to lesser-known destinations
Traveling to destinations that are a bit off the beaten path is a great option for saving money.
Smaller cities and towns usually also come with a smaller price tag, and many of these places aren't used to hosting tourists, either.
Aside from spending less money on pretty much everything, you will get a more unique and local experience.
7. Traveling during off-season
Prices go WAY down during the off-season because there is less of a demand for hotels, flights and tourist attractions.
Sure, it may not be the most ideal time to visit a place, but it may be worth it just for how much you can save.
I recently went to Niagara Falls (the Canada side) in early November, and the place was nearly a ghost town.
I'd been there during the summer before and could barely move because of all of the tourists.
In November, the weather was perfect, there were no lines for anything and our hotel that overlooked the Falls was extremely affordable.
8. WWOOFing
This is another one I haven't had the chance to try, but I've been wanting to for years.
Standing for World Wide Opportunities on Organic Farms, WWOOFing gives you the chance to stay on a local's farm in destinations around the world and do some work in exchange for room and board.
The experience is as local as you can get, and you will save tons of money by not having to spend on food or accommodation.
9. Eating in local dining spots
It might seem really obvious, but it's something that didn't quite sink in for me until later on in my traveling career.
I was always so tempted by fancy or highly rated restaurants that I would end up splitting meals with my travel partners just so it would be affordable.
Once I started eating in little, hole-in-the-wall type places, I realized that not only did I save a lot of cash, but that I also enjoyed the food and the vibes much more!
Which of these travel hacks have you tried?