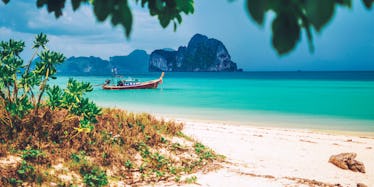 5 Regions Of Thailand You Absolutely Need To Visit On A Solo Trip
Thailand is a vacation destination of epic fame.
Not only does it have a variety of fun activities to do, it's also friendly for solo travelers and has a reasonable all-around cost.
Traveling solo in Thailand can honestly be more fun than traveling with a group because you'll meet so many other solo travelers to create new friendships with.
Here are five regions in Thailand that provide unique opportunities for the solo traveler:
1. Bangkok
Bangkok is one of the most vibrant cities in Asia -- and the world. It's Asia's "city that never sleeps."
You'll never be bored. 
You can visit Yaowarat Road, which is full of shops and outdoor markets. It's a great place to buy and try some typical Thai food.
Aside from all the temples to visit in Bangkok, you can also take a trip to the ancient city Phra Nakhon Si Ayutthaya just to the north. It's a UNESCO World Heritage Site that offers views of the gorgeous ruins of old monasteries.
If you're looking for a little more nature, try taking a canal tour down the Chao Phraya River or visiting the Princess Mother Memorial Park.
Even if you decide to spend your day just walking around, you won't be upset. There's so much offered you're bound to run into something interesting.
2. The Western Part
This part of Thailand is a dream for outdoor lovers.
Travel to the lovely city of Kanchanaburi. You can see World War II-era sights and many old Buddhist temples all in a peaceful river town setting.
Erawan Falls is considered to be the most beautiful waterfall in Thailand, and there are wonderful hikes in the area as well.
Solo travelers are especially sure to find people to connect with here since fellow outdoor lovers will make sure to spend as much time here as possible.
3. The Northern Part
Northern Thailand is one of the most beautiful parts of Thailand, and one of the least visited.
It's cooler than the rest of the country because it's surrounded by the tallest mountains.
These mountains and their foothills are home to the famous Hill Tribe people, whose images of women with necks elongated by layers of metal necklaces have made their way around the world.
Chiang Mai is the largest town in the region, and it's very popular with tourists.
While there, you can visit the gorgeous Buddhist temple Wat Suan Dok and walk around its grounds, which include a memorial garden and huge Buddha statue.
There are also a lot of beautiful outdoor areas as well, such as the Thungyai-Huai Kha Khaeng Wildlife Sanctuaries and the must-see Elephant Nature Park.
4. The Northeastern Part
This area of Thailand, known as Isan, isn't frequented by tourists too often, which makes it something of a gem off the beaten track.
This regions is home to many wonderful national parks and many ancient temples with their own unique style unlike any other area in Thailand.
Be sure to visit Wat Phu Thok, where six levels of steps lead you to many wondrous shrines. Since it's an important spiritual area, many monks come to meditate here from all over the country.
Phanom Rung Historical Park, which is situated on the top of a dead volcano, will introduce you to the ancient civilization of Khmer culture. 
This part of Thailand is also right next door to the country of Laos and can be an excellent way to visit it for a short trip. If you do decide to visit, you have to eat tons of food since it's rarely seen in areas outside of the country. 
5. The Southern Part
This is Thailand's most popular region, thanks to its many exotic islands, beautiful beaches and lively night culture.
It's a very popular area with the young, backpacking, partying crowd.
You can hire a fisherman to take you to an island for a fresh surprise, and you're free to camp on them also.
The coral reefs around the southern islands are full of colorful tropical fish, and rock climbing Railay Beach is one of the best climbing experiences in the world.
Thailand is a beautiful country that all Millennials should add to their bucket lists.
If this list isn't enough to get you wanting to travel there, just think of all the delicious Thai food you get to eat. Tempting right?