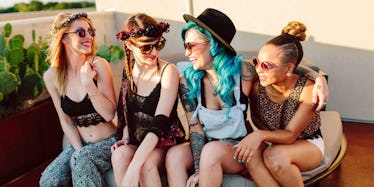 Where Your Squad Should Party For Spring Break If You Can't Afford Cabo
Ah, spring break.
It's when we get to let our hair down, break free of our wintertime blues and get off our couches for a new adventure.
As many college students know, spring break takes on a new meaning when you enter your 20s. It's no longer a time to go on family vacations, but a time to party and let go of the stress of the school year.
For those of us who are now in the "real world," it becomes a time to beat the monotony of the workweek and just relax.
But, you don't want to go just anywhere. Sure, there's Cancun or Cabo San Lucas, but those places can feel a little cliched.
Fear not, my fine friends. I am here to help you find the city for you and your budget.
Here are four places you should go for spring break this year:
1. Nashville, Tennessee
I personally love Tennessee. I think it's one of the most beautiful states with some of the best food.
And while I love Memphis for all of the Elvis paraphernalia, Nashville is definitely my favorite.
It's a city teeming with life. It has history, country music, BBQ and so much more.
You can visit the Grand Ole Opry during the day, and at night, you can head over to Broadway, where the streets are spilling over with people and music is blaring from honky-tonks, piano bars and restaurants.
It's vivacious and fun, and the only thing you'll worry about is whether or not you're going next door to the bar to get a pair of cowboy boots.
Make sure to stop by the Pancake Pantry when you're hungover the next morning. It's worth every minute of waiting.
2. New Orleans, Louisiana
In New Orleans, you can feel the energy of city  beneath your feet as you walk down cobbled streets.
There's something for everyone in your group. There's tremendous food, history tours, ghost and murder tours, voodoo and art.
There's beautiful architecture, beignets that make you wonder how you ate five and still want more and a booming nightlife. And Bourbon Street is as party-filled as you hope it would be.
Much like Nashville's Broadway, both streets have open container policies and are brimming with life.
There are bars pumping out jazz or rock music, neon lights flashing for strip clubs, walk-up windows for Hurricanes, shops selling ridiculous wares like Mardi Gras beads and oversized plastic sunglasses and voodoo shops filled with dolls and other peculiarities.
It's as fun taking it in drunk as it is sober.
Think of me when you eat a plate of jambalaya, OK?
3. Phoenix, Arizona
Arizona has a reputation for having major party schools, so it's no surprise that it's a great party city.
In March, the city becomes infiltrated by thousands of people from around the country for baseball's spring training season.
Baseball already incites the drinking and partying mindset, so fans will use any reason to start the party sooner.
Arizona is a beautiful state full of amazing hiking and outdoor activities. Even if you're more of a homebody, you should take a day trip to the Grand Canyon and cross "National Park Visit" off of your American travel list.
4. Chicago, Illinois
I may be slightly biased since I've lived 25 minutes outside of Chicago my entire life, but I think it's an absolutely incredible city.
We have everything you could want.
There are neighborhoods with delicious treats like Stan's Donuts and Kuma's Corner, breweries like Goose Island and Lagunitas and fantastic museums like the Art Institute and Field Museum.
Did I mention there's a giant metal bean for a prime photo op?
At night, the city bustles even more. There are enough bars in this town to refill the Chicago River.
There are even three different types of beer tours through the Chicago Beer Experience that tie in history, drinking and food, so we have you covered.
So, there you have it.
These are four new options to consider, and not one of them is in the state of Florida, where everyone seems to flock to this time of year.
Beat the crowds and head somewhere different this year.
No matter where you go this spring break, remember to always be safe and to utilize the buddy system. And when you and your friends start drinking, remember no man gets left behind.