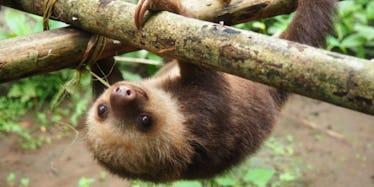 You Can Now Have A Sleepover With Sloths, So 2017 Is Officially Looking Up
Shuttersto
As an adult, when was the last time you had a good ol' fashioned sleepover?
Most of my sleepovers are either of the sexy variety or the "my friends are too drunk to get home" type.
I'm talking eating snacks, sleeping hard, maybe some cuddling in a pillow as you tell each other your deepest and darkest secrets.
Who is better at all of those things besides me?
Sloths.
Zoological Wildlife Conservation Center in Rainier, Oregon is making dreams come true by offering sloth sleepovers. The website reads,
Guests will observe natural behaviors and interact with a colony of sloths during the activity bouts of their naturally most "active" time of day. When the sloths are napping guests can read, relax, and even nap themselves if they wish, INSIDE one of our sloth ambassador colony habitats.
I. Am. Screaming.
Of course, sloth sleepovers don't come cheap. Just like I had to pay my friends in elementary school to hang out with me, a sleepover with sloths will cost $600 per pair.
But that's a small price to pay to not sleep alone.
The two people get a tent, which comes with a safety screen in case you want to keep the sloths out, an educational Q&A with a staff member, a T-shirt, a "Mystery Creature" intro encounter, a shared TV and... the ability to feed the sloths.
Aw, yeahhh... this is straight up my dream vacation.
The conservation center believes that human contact with wildlife species will be banned by federal law soon, so this may be your last chance to have a slumber party with a sloth.
SO GET MOVING. LIKE, FASTER THAN A SLOTH. MUCH FASTER.
If you're asking what those free T-shirts look like, I heard they say "I Slept With A Sloth," so YEAH, it's a conversation starter.
Citations: Sloth Slumber Party Debuts at Oregon Conservation Center (Teen Vogue)