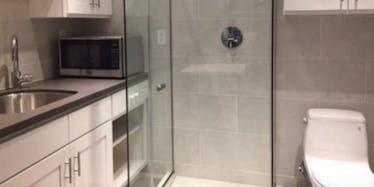 This Nightmare San Francisco Apartment Forces You To Poop Where You Eat
SFist
My worst apartment may have been the one I was living in Chicago.
I, a virgin who couldn't give it away, lay awake at night while my roommate, a self-described "sex addict," had different girls over every night. I heard every weird squish and queef through the sheet we hung up to separate our "rooms" in the lofted studio apartment...
But this apartment in San Francisco is worse. Way worse. And it costs $2,000 a month -- which is like $1,500 more than what I paid to live with a sex addict in a studio that had a real bathroom.
Apartment hunting in SF is literally hell on Earth, but this studio on NextDoor takes it to the seventh layer.
According to the landlord, the apartment comes with easy parking, but it's better for "one person."
The TV and small eating area is to be expected in such apartments.
As is this tiny sitting area. The couch, I assume, pulls out to serve as your bed.
It's not so bad, right? Sure, it's small, but it's totally manageable and clean.
Plus, it looks like it's been totally redone! Look at those gorgeous hardwood floors. Even the cabinets look brand new.
"But tell me about that kitchen! And where's the bathroom?" you ask?
AHHHHHHHHH! NOOOOOOOO!!!!
If you can find a way to get over the fact you're standing butt-naked in a glass chamber next to your microwave, how could you ever get over the fact you'll be able to see everything you own from the comfort of your toilet seat?!
Literally, you'd be shitting where you eat.
Imagine trying to bring a date home to this? They're going to assume you have a pee fetish.
(*HEAVY BREATHING*) SORRY, HOPE YOU DON'T MIND I WATCH.
While building regulations no longer require two doors between the kitchen and toilet (how do I know this? Honestly, sometimes I impress myself), it probably doesn't mean you shouldn't have ZERO DOORS and NO WALLS between the kitchen and toilet.
It's a shame. The tile looks gorgeous.
Citations: This Might Just Be The Most Truly Disturbing Apartment You'll Ever See (Buzzfeed)