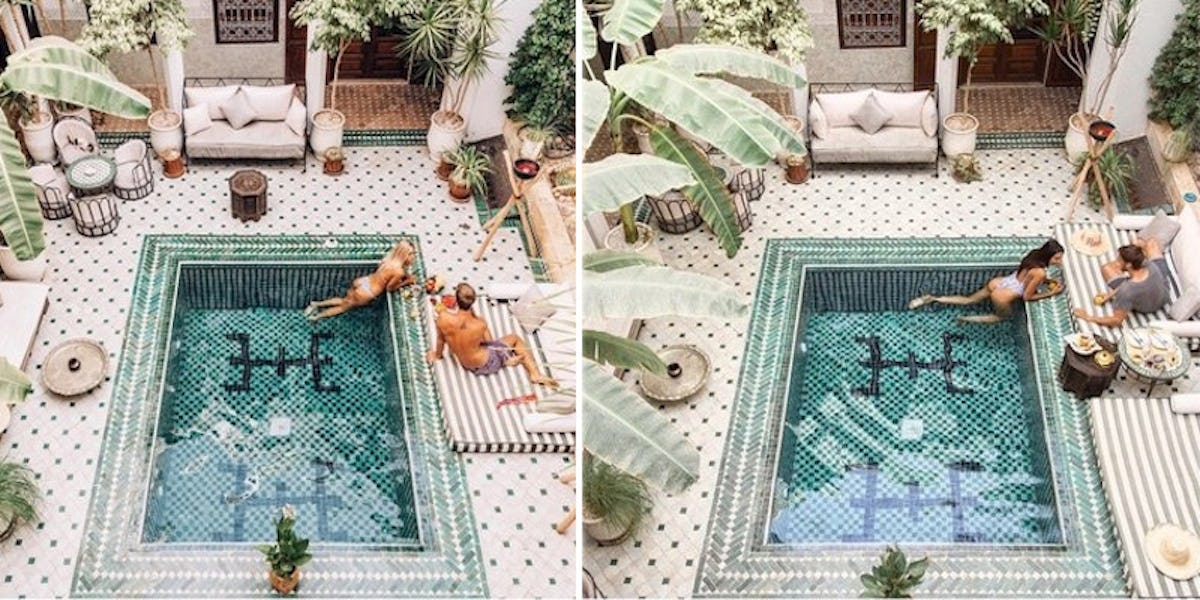 Here's Why Every Instagram Star Keeps Posting Pics Of The Same Pool In Morocco
It's been said that imitation is the most sincere form of flattery.
However, there's a fine line between finding inspiration from someone's work and stealing someone's ideas.
Case in point, Lauren Bullen, the travel blogger behind the Instagram account, Gypsea Lust.
Not too long ago, Bullen stumbled upon an Instagram account, @diana_alexa, that featured a woman who was on a mission to follow in her footsteps and recreate all of her signature Instagram snapshots along the way.
However, it appears that @diana_alexa isn't the only one who's been scoping out some of Bullen's best kept travel destinations.
Remember the photo of Bullen eating breakfast with her boyfriend on the edge of a gorgeous pool?
Well, it turns out that a lot of Instagram stars have been posting similar pictures of this pool.
Apparently, this coveted pool is located at Riad Yasmine, a small hotel in Marrakech, Morocco, that is run by a French couple, Gabriel Paris and Alice Tassery.
Last year, the couple decided to adopt a business strategy that involved using social media influencers such as Bullen to promote their hotel.
Their strategy clearly worked because Tassery claims that Instagram posts, such as Bullen's pool photo, have really helped the Riad Yasmine make a splash in the social media scene.
Tassery told Mashable, "We earned so many followers and new guests after they shared it."
In fact, Tassery even said "more than 80 percent" of hotel guests say they decided to book a vacation at this small, seven-room hotel after seeing pictures of the eye-catching pool on social media.
Then again, it's not hard to see why this spectacular spot is giving people such a serious case of wanderlust.
Thanks to its abundance of palm trees, comfy beds and pretty colors, many people have dubbed this ethereal watering hole as the world's most photogenic pool.
Tassery also revealed some info about the pool's design, saying, "The symbol inside the pool represents the Amazigh symbol (Berbere culture) which means free man, the land and the language. And it is part of the charm of the Riad."
Therefore, it only makes sense that every social media star is now suddenly on a quest to get a snapshot at this spiritual, Instagram-worthy escape.
If you're looking to get in on this pool party, room costs at Riad Yasmine usually vary somewhere between 95 to 125 euros per night.
However, based on the skyrocketing popularity of this picturesque pool, it's probably safe to assume that this tiny hotel has a pretty lengthy wait list.
But hey, if you ask me, snapping some selfies as you're drifting around this zen AF pool seems totally worth the wait.
Citations: Every Instagrammer Is Posting A Photo Of The Same Pool In Morocco (Design Taxi)