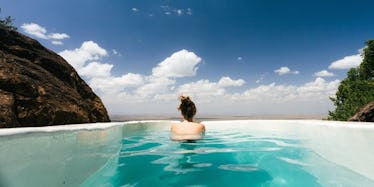 11 Extravagant Destinations To Visit When You DGAF About The Price Tag
Do you constantly dream of living in a world where the high cost of traveling is obsolete?
If you're blessed with the wanderlust gene and embody the mindset, "I'm going into debt so YOLO; the memories make it worth it," it's time to make that dream a reality.
There's a bit of wanderlust in all of us. But the people who have a constant itch to travel know remaining in one place for too long feels unbearably confining.
There are so many breathtaking and cultural locations in the world to explore, it can be difficult (while extremely exciting) to decide where your dream will take you.
Where shall you wander next? Decisions, decisions.
When you aren't worried about the cost, it's all that much better… and you can check off more spots on your bucket list.
Here are 11 places to travel to when you DGAF about the price tag.
They're opulent AF, downright ridiculous and absolutely magical.
1. Desert skiing in Dubai, anyone?
…And where else could you casually ride a camel to a traditional Arab tent for dinner? Bask in the luxury of being entertained by a belly dancer while savoring Arabic food.
The Burj Khalifa is a complete and utter vision in Dubai, taking on the notorious title of the highest freestanding structure in the entire world. The view from its 134th observation deck at night is said to be unparalleled.
2. Dive into the deep blue straight off your bungalow in Bora Bora.
The bungalows happen to be conveniently nestled directly over the remarkable blue water. This gives you the ultimate excuse to snorkel the day away. If your bungalow has an infinity pool and hot tub on deck, even better! Swim, relax and soak up those rays.
Cruising into one of the most incredible sunsets on earth, complete with champagne, is a perfect way to end your magical stay.
3. Star gaze and book a wine tasting on Makepeace Island.
This gorgeous Australian island is actually shaped like a heart, which makes it a perfectly romantic destination to travel to with that special someone.
Satisfy your inner adventure with paddle boarding and kayaking. Sign up for a wine tasting, and gaze up at the stars.
4. Dine under the sea in the Maldives.
What's more majestic than feeling like a mermaid? You can actually be one IRL as you wine and dine at The Conrad Maldives Rangali Island. The Ithaa Undersea restaurant can be found 16 feet under the sea with the fishes.
Savor a delicious dinner while taking in the beautiful aquarium-like view.
Explore this beautiful stretch of land that is at the Equator, across the Indian Ocean. There are over 3,000 coral reefs for diving, and it's truly a dreamy place to run away to.
5. Rejuvenate in the Blue Lagoon in Grindavík, Iceland.
Situated in the heart of a lava field, The Blue Lagoon Geothermal Spa offers a luxurious experience for all guests. Relax and nourish the mind and body.
This is certainly not an activity for the queasy. But anyone who has a spontaneous side to them will not be disappointed by the exotic views you'll get when rising above the land. You'll definitely feel like you're a king or queen on the top of the world.
7. Open your heart and soul to a spiritual journey in Tibet.
Choose the path less traveled, because why not? Find yourself while taking an extreme spiritual journey and exploring the tallest mountains in the world.
...Complete with your very own personal crew. Explore the Seychelles islands while your captain and drive chef cater to your every desire. What's better than that?
9. Rent a villa in Lake Como, Italy.
Take your travel needs to the base of the Alps in Northern Italy. There are breathtaking shores, cobblestone streets to wander through, and only the cream of the crop when it comes to savoring a meal dockside.
10. Immerse yourself in French wines in Cannes on the French Riviera.
Enjoy the fine wine, marvelous beaches and endless opulence. Need I say more?
11. Absorb the irreplaceable views in Santorini, Greece.
Santorini is a dreamy destination known for its picturesque views, stunning white houses with blue domes and extraordinary sunsets. It's a romantic backdrop, with photographic opportunities in each and every corner.
Depending on whether you're looking for adventure, peaceful surroundings, or a little bit of both, your wanderlust gene will be jumping for joy, anticipating all-things luxe.
Kick back, relax and embrace all the luxuries traveling provides. You only live once, so why spend your life saving money you'll never use?