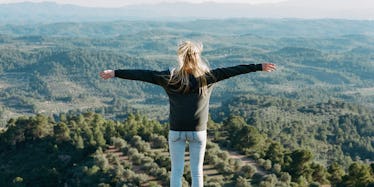 These Are The Places That Will Make You Feel Less Lonely While Traveling Solo
Most people's New Year's resolutions are relatively easy to accomplish: going to the gym, cutting back on Chipotle and getting a yoga membership pass.
But not you, right? You've decided to take on the world on your own, which is probably the ballsiest thing you can do.
You can expect a lot of things to change while you're jet-setting around the globe, but first you'll need somewhere to begin.
If you're looking for cities to go to alone, but not actually feel alone, check out these four cities to satisfy your wanderlust:
1. Groningen, Netherlands
Groningen is a must if you're traveling the world on your own. As a university town, it's filled with college-aged kids who will be more than happy to show the new kid on the block a good time.
There are tons of adorable coffee shops for you to sit in and blog or read a good book.
If you're by yourself, you'll be able to actually appreciate the magic that is the city. Take some time to explore the historical aspects like the Martini Tower, the fourth largest tower in the Netherlands, or the Der Aa church, which origins extend back before the year 1226.
Once you've had your historical fill, pop on over to the university side for some yoga and take a night out in the Poelestraat for clubs and bars.
With more than 50,000 students, this is one of the best cities to travel alone while not actually feeling alone.
2. Rouen, France
It's not Paris, Cannes or Normandy, but this small French town will have you eating out of its hands.
If you're into art, history or religion, you'll get the most out of Rouen by traveling solo.
First and foremost, this city is know for its hand in Joan of Arc's story, and you can walk right to the spot she was burned.
Walk yourself through the Neolithic period, the Viking Age and the conquest of England, and explore history up until present day.
Afterward, treat yourself with some Impressionist art.
Check out the site of one of the famous Monet paintings, the Rouen Cathedral, and many others.
Then, finish your night off with a bottle of authentic French wine and Netflix. You'll feel so relaxed and at ease, being lonely will be the furthest thing from your mind.
3. Seattle, Washington
Seattle is a city so packed with things to do, you won't even realize you're exploring the city on your own.
There is always something more to see or do in a truly diverse city like Seattle.
Start your morning off right with a cup of coffee at the original Starbucks, and grab a sandwich to go from Le Panier in Pike Place Market.
From there, you can explore the depths of the Market for unique shopping opportunities like Gem Heaven, a jewelry and energy healing store, or Orange Dracula 5 & 10, a strange items specialty store.
Or, you could hit up the Seattle Art Museum (locals call it the Sam) less than two blocks away. A great thing to do is grab a car2go and explore the outskirts of Seattle. I'm thinking Alki Beach, Fremont Troll and Olympic Park.
And since you're in Seattle, ask the locals where the next political rally is.
The best part of traveling alone is being able to blend it with the locals, and nothing screams Seattle more than a good political rally.
4. Antwerp, Belgium
Between the Belgian chocolate, fries and festivals, you'll be engulfed in decadent food from beginning to end.
Wake up and enjoy a luxuriously bubble bath in a hotel overlooking the historic Antwerpen-Centraal train station. Then, head over to Meir for a one of a kind shopping experience from brands you'll recognize and some you've only ever dreamed of.
After shopping to your heart's content and emptying your wallet, let your mouth water at the ModeMuseum, the museum for fashion.
For dinner, indulge with all you can eat sushi at the Sushi Shop.
If you have any energy left to spare, be sure to stare at all the pretty diamonds in the jewelry stores. After all, Antwerp is the Diamond City.
The best part about being alone is, no one will judge you for your shopping spree.
Traveling alone doesn't have to mean feeling lonely.
Pick cities that encourage meeting the locals, and any one of these four cities certainly fit the bill.
You'll feel like a local, and you'll be treated like an old friend. Each city will make you feel right at home, and trust me, you'll never want to leave.