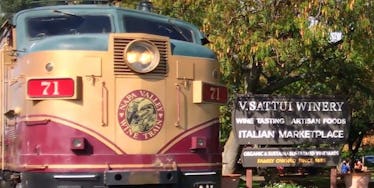 This Wine Train Takes You On A Journey Through Vineyards And We'd Like To Sign Up
Winetrain.com
Now that summer's coming to a close, you might be looking for one last vacation before diving back into work. Or, now that the change of seasons is upon us, perhaps you're looking for a way to celebrate fall and all that comes along with it. No matter the time of year, I guarantee you're going to find a million reasons to book a ticket for the Napa Valley Wine Train. Without question, this will be one of your best traveling experiences yet, because the train will take you from vineyard to vineyard.
The three-to-six hour excursions — running from Napa to St. Helena and back — gives customers a blast from the past thanks to the early 20th-century train cars. While journeying back in time, there's the option to participate in a murder-mystery dinner ride to satisfy those The Girl on the Train vibes (see what I did there?). Maybe you're looking to plan a special evening for your honey, in which case the Romance on the Rails package is going to be a must-buy for you and your SO. With dozens of different options, you have a menu full of different types of entertainment... and wine.
Speaking of the menu, who wouldn't want a glass of vino to pair with dishes like lemon ricotta ravioli or brown butter-smeared corn bread? Delicious options abound! All foodies and adventurous travelers should experience this at some point in their lives. It's a lot better than the train ride you take to get to work.
Aside from the entertainment and delicious aspects of the $146 events, wine does have its benefits. For one, enjoying a glass could help unleash your creative side, so a trip like this could inspire your next big project. It's time to get those DIY vibes going, people.
A glass of vino can also unleash, um, other types of creative energy, too, so it's a good thing you booked the Romance on the Rails package while you could. Your sweetheart will thank you for a dose of romance and steaminess.
See? You needed a reason to take time from work, and here it is. Cheers to that! We'll see you on the train.