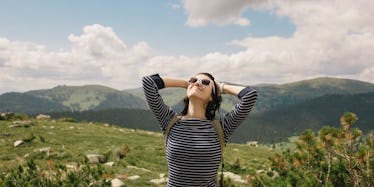 Why Moving Abroad Is The Answer When You're Young, Broke And Can't Find A Job
Moving abroad feels like something reserved for the old and rich.
Aside from backpacking vacations, study abroad programs and the occasional post-grad trip, the young and broke generally feel that international travel is out of their reach.
Who can afford the time and effort it takes to move to a different country? How will you ever get a job?
But it turns out, most of our fears of moving abroad are blown out of proportion.
The United States is unique for young workers in two inconvenient ways: it's more expensive to live here, and it's harder to get a job.
An American transferring to another country has far more opportunities available to them, as well as a potential lifestyle overhaul.
If your life is feeling humdrum and you're looking for a dynamic change of pace and the chance to explore a whole new land, moving abroad is both viable and ideal for young adults.
Think about the job market.
Not all foreign countries will offer American, educated young adults the same opportunities.
Many countries outside of the US are also experiencing job crises. But, some surprisingly unexpected countries offer generous job opportunities, particularly for college-educated Americans.
Finding a job in the country you live in will be paramount.
You can't rely on savings alone (and most young adults don't remotely have the savings to pack up and move) because only a select few countries will offer young adults visas without a job.
For most people, a permanent position is critical.
But sometimes, just moving to a different country can open you up to opportunity. For example, according to Vice, Erin Grover earned a photography job for the UN because she was already on the ground in Kabul.
Of course, planning ahead and applying to jobs before you get there can save you worry about not qualifying for a visa if you can't get a job in time and help you prepare for your visa application before you even move.
Look for the ex-pat communities.
Expat communities are a vital tool for traveling abroad.
These communities offer you a bridge between American culture and the culture of the country you live in, including aiding in your language barriers, helping you make local connections and putting you in touch with good job opportunities.
Many young travelers find that expat communities are invaluable to their ability to blend into a local culture since they're likely to form very tight-knit communities and do an excellent job of educating and helping with any legal difficulties between either your new country or the United States.
These local experts will be able to connect you to cheap eateries, good shelter options and places to spend your time.
Pack and travel light.
The biggest expense that comes with traveling to a new country is handling your stuff.
Shipping goods, bringing suitcases on planes and otherwise transporting your equipment is going to be an expensive venture no matter what you use.
The best way to help you travel to a new country, particularly on a budget, is to sell as much stuff as possible before you go and get rid of what you don't need.
Travel light. Part of your new lifestyle will certainly involve abandoning some of the excessive materialism that can come with living in America.
Shipping the few items you do bring ahead of time will help alleviate whatever moving costs you simply can't avoid.
Additionally, you'll be able to buy goods in your new home for what will certainly be more reasonable prices.
Traveling abroad doesn't have to be an expensive venture.
In fact, if planned carefully, it could be a much cheaper and more enjoyable lifestyle than living in the United States. It's not an option just for the rich.
Look abroad, and see what your future could be.