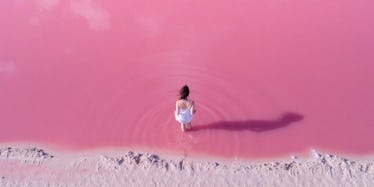 This Gorgeous 'Millennial Pink' Lake Will Make Your Summer Travel List Complete
If you're in need of a Millennial Pink fix for your next Instagram post, you're in luck.
You can totally catch up on the color trend… that is, if you're willing to book a flight to Australia.
OK, here me out: Since there are luxurious Airbnbs worldwide at small costs and sneaky ways to make the most out of your travel fund, there's no excuse not to head down under.
After all, how else are you going to witness bodies of water that look like liquid bubble gum?
Pink Lake and Lake Hillier are both sites to treasure during your Australian journey.
Both of these lakes are located in Esperance in the state's Golden Outback region. They're definitely worth a peak.
Let's take a look at some of the breathtaking bubble gum-inspired pics that'll make you ~pink~ with envy.
Pretty incredible, wouldn't you say?
I'd be willing to dip my toes in this beautiful body of water! How about you?
If it's going to keep looking so gorgeous, I might as well forget my toes and just jump right in.
Cowabunga, dude!
This pink hue is thanks to the high concentration of algae, according to Australia.com.
If you're looking to capture the bodies of water at just the right time, there are a few steps you need to follow.
For Pink Lake, head to Eleven Mile Beach Road, which is just 10 minutes or so from Esperance Visitors Centre. If you're looking to see Lake Hillier, it's a bit more of a challenge, but fear not — Aussies will help get you there.
Before you leave Esperance Visitors Centre, make sure to inquire about helicopter flights, as they're the best way to take in the views. For a more personal feel, you can book a cruise to Middle Island to get down to business by snapping your selfies on the beach itself.
With these colorful pics about to take over your page, we're willing to bet the likes will come pouring in.
Citations: GUIDE TO PINK LAKE (Australia.com)