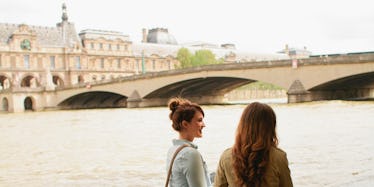 Best Cities To Visit In France: Paris, Bordeaux, Versailles, Avignon and Marseille
A year ago, I spent the entire month of October on a Eurotrip with one of my best friends. It was the trip of a lifetime: I met the most wonderful people, learned new cultures, tasted incredible food and saw sights I never thought I'd ever have the chance to see.
On top of all of that, the weather was cold enough to bear and warm enough to pack lightly.
The best part about Europe is that you have the ability to take the train anywhere you want. From Paris, a few hours on the bullet train can take you just about anywhere in the country, even to other countries.
Here are five picture perfect places in France to visit in the fall:
1. Paris
This is a given. Paris is, and always will be, my favorite place in the world. I've been visiting Paris since I first fell in love with the city when I was 18, and I don't think I'll ever feel differently about it.
Paris in October is as beautiful as the East Coast in the fall. There's nothing like sitting in an outdoor cafe with a good book, a latte and the cool city breeze. Not to mention the beautiful sound of your fellow neighbors speaking in French (insert heart eye emoji here).
The sights in Paris are endless. Aside from the museums and local tourist attractions, the city's parks -- and they're everywhere -- are filled with beautiful scenery and things to do.
Saint-Germain-des-Prés and Le Marais are my favorite arrondissements (neighborhoods) to walk through as they remind me of the West Village and SoHo in NYC.
In addition, nightlife in Paris is an experience. Like in New York, you can head to a local bar to meet new people, or check out the nearest jazz club for great music. Whatever you do, this city is yours.
2. Bordeaux
My friend and I took a day trip to Bordeaux during the week since the train ride was only an hour. Bordeaux was slightly warmer than Paris, and was hit with a sun shower when we arrived.
Once the skies cleared, we spent the day shopping for wine and tasting local delicacies -- don't leave without a box of cannelés.
Personally, I loved checking out the small businesses and book shops around Bordeaux.
Unfortunately, I only stayed for the day. But I've heard the city is beautifully lit at night. If you're tight on time, make sure to take the tram to get around faster.
3. Versailles
Everyone deserves to feel like royalty every now and then, and the Palace of Versailles is a breathtaking sight to see.
Although it's a few train and bus rides out of Paris, a day in Versailles is unlike any other. My favorite part about Europe is its architecture. You'll be impressed by the interiors, but the exteriors will take your breath away. (And make you wish you lived in the 17th century.)
You'll need an entire day to go through the entire palace and walk through the gardens. Like a life-sized maze, the garden leads you through extraordinary little pathways decorated with unique architecture and even a fountain light show.
4. Avignon
When in France, you MUST go down south. Avignon is along the western edge of Provence, and is a few hours by bullet train from Paris. It's everything you can expect in a small town.
While in October you can't visit the gorgeous lavender fields, you can visit the famous Pont Saint-Bénézet (also known as Pont d'Avignon). This is a bridge that stops right in the middle of the Rhône River.
After seeing the major attractions, you can walk around Avignon's local shops where you'll find unique little knick-knacks to take home, like incredibly scented soaps and all things lavender.
5. Marseille
Marseille is perfect for a long getaway, or a short day trip.
In October, everywhere in France begins to cool down. But, Marseille is still warm as it says goodbye to summer. Throughout my entire Eurotrip, Marseille was the only place where I didn't need a jacket.
There are tons of things to do in this city, like visit the massive cathedral and Notre-Dame de la Garde.
The best part is driving up along the coast and getting the chance to see the different beaches and visiting all of the ports. On that note, be sure to eat as much seafood as you can in Marseille. It's extremely fresh, and as decadent as you can imagine.
Wherever you end up in Europe, you're guaranteed to have the experience of a lifetime. Try to get to at least one of these cities while you're visiting though, I promise you won't be disappointed.