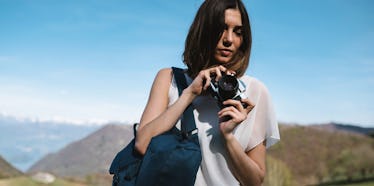 6 Ways You Can Use Instagram To Plan Your Next Vacay Like A Travel Blogger
From where to find the best latte, to what to wear in Paris, Instagram is on its way becoming the hottest new travel app.
While millions scroll through fashion and food photos, travelers everywhere are turning to Instagram to help plan their next trip or vacation.
As a travel blogger, I love using the photo-sharing app to help plan trips because other users share their unbiased opinions and photos.
They aren't (usually) paid to promote a location or company — they genuinely love the product or destination.
When planning a trip, I head to Instagram before I even Google a destination because users share up-to-the-minute photos that search engines could never give me.
What a time to be alive! Instagram is proving to be an invaluable tool for newbies and seasoned travelers alike, and it is a super awesome way to plan your next vacation.
Here's how:
1. Use images you love to help pinpoint your next vacation spot.
Take notes on where your favorite Instagram images are taken.
Seeing tons of epic photos from Iceland every time you log on? Maybe this is a subtle sign that Iceland is where you should consider for your next trip!
Totally in love with all the images from Italy or New York City? Boom! You already have a few location ideas narrowed down for your next vacation.
2. Follow location-specific feature accounts for the ultimate inspiration.
When I was planning a trip to Oregon, I didn't know too much about the state.
I followed large Instagram accounts that only feature images taken in the State of Oregon, @Oregonexplored, for example.
These feature accounts share images taken by the best-of-the-best and I received valuable insight into gorgeous locations I never knew existed.
Type the name of your destination in the search bar of Instagram and feature accounts are often among the first to pop up.
3. Post a photo asking other users for suggestions.
During the planning stages or at the start of your trip, post a photo on your Instagram account asking other users for their tips.
Make sure your caption focuses on what you care about, like best vegan restaurants, where to see the sunset, general "must do" tips, etc.
Once you have created a great caption, be sure to include location-specific hashtags. If you will be visiting a large area such as France, hashtag broader tags such as #France #frenchtrip etc.
This allows other users to see your request and gives them a chance to respond and help out.
4. Search "places" to plan your itinerary.
When searching on Instagram, head to the tab called "places" and enter either a broad "New York City" or focused "Brooklyn Bridge" term.
Geotags show exactly where a photo was taken on Instagram and this is the easiest way to plan your trip.
If you see an absolutely beautiful image come across your feed, check to see if a location is tagged on top of the image.
If a geotag is present, click it and you will arrive at a page full of images by other users who tagged the same location.
5. Harness hashtags to help decide your wardrobe.
Your apps can only predict the weather at a location. Want a better gauge?
Use Instagram hashtags and location tags to find out what is going on at a destination this very moment. Go ahead and try it!
It is best to defer to what the public on Instagram are doing since they are at a location this very moment.
Just make sure to check the timestamp showing when the photo was posted. You wouldn't want your inspiration image to have been taken six days ago.
6. Follow tourism boards and local users.
Tourism boards know practically everything there is to know about a certain destination.
Make sure to search for them on Instagram before you head to a destination. They offer unique insight into activities and locations you may love but just not know about.
Local users make your vacation destination their home. They provide a candid take on everyday life where they live and will open your eyes when it comes to places to eat/drink/see.
They are often very helpful and personable, so don't hesitate to comment on some of their images and ask questions.
This post originally appeared on the author's personal blog.