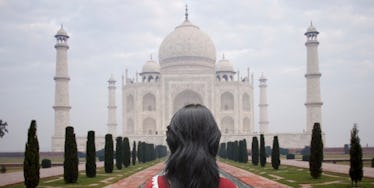 5 Reasons To Book A Flight To India If You Seriously Need To Escape Reality
In recent years, India has become a famous tourist destination where people from all around the world travel to discover themselves.
Some head there on a soul-searching adventure, while others go to explore and embrace the culture and atmosphere.
Whatever your background, India is definitely is a place no one should miss.
Here are a few reasons you should definitely escape your reality to India:
1. Amazing food culture
In the hustling and bustling noise of the streets with the loud screams and the surprising laughter, the sight of India is a feast.
Walking down the street, it's a common view to see people sipping on tiny glasses of milk chai in tea shacks.
From the north to the south, east and west of India, you can find different cultures, languages and heritage.
These distinctions also impact various regions' food and flavor.
In Southern India, which would be Kerala, Bangalore and Chennai, you'll experience strong spices and huge amounts of rice. You'll find dhal and curries varying from all taste and type.
However, if you visit Northern India, Chandigarh, Delhi, and Mumbai, the spices may be milder, and rice isn't a huge a staple anymore.
Instead, you'll be served a generous amount of chapati, which is an Indian flatbread.
The availability of vegetables and generous agriculture gives this country its unique diversity.
While our Western world cooks from books, Indians cook from the heart with recipes passed down from generations.
2. The love for history
People from India are known for their love of their country and its history.
A land that became the identity for one of the world's oldest language (Sanskrit) is filled with archaeological and artistic treasure.
From political figures who dominated the world stage (Mahatma Gandhi and Prime Minister Nehru) to the beautiful Taj Mahal in Agra, India will keep your surprised and entertained throughout your stay.
While you're there, be sure to visit the Sanchi to find out how Buddhism has influenced the culture of India.
For unprecedented beauty, one should definitely visit Agra Fort in Uttar Pradesh. This red stone fort will leave you in awe.
3. Beautiful nature and scenery
The dry land of Rajasthan and the beautiful green land of Kerala are impossible to miss.
India is the home to many wildlife animals, from rhinoceros to buffalo. So, I would recommend going on a safari trip with a guide.
One of many personal favorites would be the Kaziranga National Park in Assam.
You can find panthers, bears and various pretty birds, and it has earned the distinctive feature of being one of UNESCO's World Heritage Sites.
There is also Sundarban National Park in West Bengal and Gir National Park in Gujarat.
Sundarban National Park famous for its beautiful Bengal tigers, and the golden crown of mangroves is a site you wouldn't want to miss.
It isn't surprising that it's also part of the UNESCO Heritage. This national park is open throughout the year, but the best time to catch a glimpse of the animals would be around April.
4. Spirituality and self-discovery
One of the main highlights of India is its spirituality. It's the birthplace of yoga, Ayurveda and other various traditional spiritual remedies.
Many people who are tired of living stressful lifestyles in urban cities go to India to unwind and relax.
One of the best places to get in touch with your spiritual self is the ghats in Varanasi. Aligned along the holy river of the Ganges in Varanasi, these worshiping sanctuary became the landmark of India's greatest treasure.
With 87 ghats, it takes more than a week to observe and visualize all the rituals and celebrations
However, the highlights would be the Ganga Aarti in the Dashashwamedh ghat, where you'll find a lively celebration with various colors, tons of priests, saints, people and chants of worship.
It's believed a dip in the Ganges can wash away all your sins.
Another amazing sight would be the Assi ghat, where the Ganges River meets the Assi River. This would be the place where Shiva worshipers gather and worship with a bath in the holy waters before heading to a pilgrimage.
If you're tired, you can head down from the Dashashwamedh ghat to a nearby market, where chaos and noise becomes a welcomed sound and sight.
However, if you decide to stay, you can always look for meditation mandalas or visit a temple for advice.
An amazing recommendation would to go along the Ganges for a boat ride and be mesmerized with all the Ghats.
5. Entertainment and affordability
Despite its traditional and cultural attributes, India is pretty diverse in both its perspective and culture. You can find all walks of life and enjoy life to the fullest with an affordable price anywhere.
One of the famed tourist destinations would be Goa.
Unlike other parts of India, which were colonized by the British, Goa was colonized by the Portuguese. That region has adapted to a mixed influence from both Indians as well as Portuguese.
Goa is also a party destination. So if you're looking to party and get in touch with some amazing entertainment, the Goa would be perfect.
Its amazing beaches offer a mesmerizing sight, and you can indulge in all forms of adventure sports.
Being ultimately affordable and calm, it's a perfect haven for digital nomads.
With all of these reasons, it's obvious you should visit India if you need to get back in touch with yourself or make a serious change.