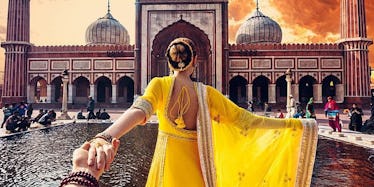 Travelers Break Down The Real Cost Of Those Breathtaking Round-The-World Trips
Instagram/Murad Osmann
If you've ever seen the picture above, or the many others like them, or even have the slightest access to Instagram, chances are you've been jealous of someone else's travel plans before.
That also makes it likely that you've asked yourself what it would take to get a job that pays you to travel. Or, better yet, how much would it cost to travel around the world on your own terms?
The latter question was the subject of a Reddit forum that was based on a straightforward question to RTW (round the world)  travelers: "Where did you go and what was your budget?"
Commenters then responded with answers that went all over the place, depending on where they went and how much time they were away, of course.
In one case, an American traveler took 333 days to travel from California, through Europe, to Asia and Australia, and then to Latin America. It cost him. The price tag?
Total of 26 non-US countries. Cost was approximately $20k/person (went with my girlfriend-at-the-time, now ex). That's all-inclusive, with flights and also some pre-trip supplies like a new laptop and travel packs.
But the most helpful pieces of information came from travelers who shared their daily budgets.
On the high end, one couple has been traveling through Asia and Europe for months on a $175 daily budget. But another couple seems to have found the key to much more cost effective traveling:
I've been traveling non-stop for 2 years now. My GF Just finished our year-end expense report and we came to a total of $31.45 per day including all planes/trains/hotels/food... everything. We didn't live cheaply, we eat out three times a day stay in 2-3 star hotels and go on adventures twice a week. It's a matter of using Credit Card miles wisely, hotel deals/ points, couchsurfing occasionally and choosing budget friendly locations.
Of course, the ability to travel is likely to depend on your situation with employment. The Californian traveler, for example, says he was able to work 10-15 hours a week doing "programming work."
While the man with the $175-per-day budget put it out there plainly,
For some perspective, my wife and I are 31 and 32. We had saved for the trip but I also have a side business that has been taking off so we're making solid money on the road. I also had a high paying job prior to leaving. For us it's all about the experience and convenience. If something looks cool we do it!
All in all, the lesson seems clear: If you don't have a whole bunch of money in the bank, you'll definitely have to find a scheme to make traveling around the world work.
Citations: So How Much Does A Round The World Trip Actually Cost? (Uproxx)