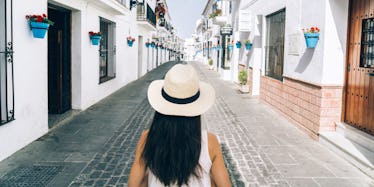 4 Expensive Travel Destinations You Can Actually See On The Cheap
Traveling can be expensive, but savvy travelers know it doesn't always have to be.
While those on a budget head for cheaper countries like Vietnam, Thailand, Mexico and Poland, the REAL budget travelers are going to the world's most expensive travel destinations.
You might be wondering, "Why would they do that?"
Well because they know there are a few crafty ways to see these destinations without breaking the bank.
Here are few ways to do it:
1. Grand Cayman, Caribbean
This destination is a common stop for ritzy cruise ships and a regular choice for celebrity vacations.
The seafood is fresh, the drinks are flowing and the beaches are pristine.
Luckily for budget travelers, there is a chance to see the island on the cheap.
Cheap hotels
While expensive resorts are the norm on Grand Cayman, they actually have some budget hotels.
People might be surprised to hear that well-known budget accommodations like Comfort Suites have a property on the island that backs up right to the beach.
And, budget accommodations like this tend to have a free breakfast and also feature suites with full kitchens, allowing you to cook instead of eating out.
Free beach access
There is beach access ALL over the island. Bring your own snorkel, and you can have an underwater excursion for no cost.
Cheap or free attractions
Instead of paying for the top-dollar activities, try out some of the free or cheap ones.
You can visit Hell, a geological point, for no cost, take walking tours with the National Trust for low prices, buy a cheap ticket for the Turtle Farm or take a self-guided walking tour around George Town.
This will leave money left over so you can splurge on some of the top attractions, like Stingray City!
Happy hours and cheap restaurants
Check out the local restaurants to find out when their happy hours are. You can score some great deals on both food and drinks.
And if you pay attention, you can find local shacks and small restaurants that sell food for extremely low prices.
2. Tokyo, Japan
Tokyo is one of the most expensive places to visit in the world. It's high-tech and absolutely vibrant, making it unfortunate for you to miss.
But, we can get you there on the cheap.
Cheap accommodation
You can get a bed in a capsule hotel for as low as $20, a hostel bed for as low as $28 and a single hostel room for as low as $55.
There are also budget hotels like Andon Ryokan.
Off-season prices
Visiting during the off-season will score you lower prices for activities, hotels and flights. The period between mid-May and the end of June is a good time for low prices, but it's often pretty rainy.
Fast food restaurants
Japanese fast food is extremely popular and surprisingly hearty and healthy.
You will be able to tell them apart from the nicer restaurants as they resemble the fast food establishments that you are used to.
But, the food is authentic Japanese and really reasonably priced.
Visit parks and bustling city areas
There are plenty of parks where you can enjoy nature and see what real city life is like.
Also, make sure to just roam around the bustling areas of the city like Shibuya and do some people-watching. All of it is free.
3. Singapore
This country is notoriously pricey, and those who visit say that there isn't much to do except shop, eat and spend money.
If you want to see what Singapore is all about, try some of these budget-friendly tips.
Free public parks
Visitors can wander around the free sections of the Gardens By The Bay or wander around the super local Toa Payoh Town Park.
Hawker food
These vendors are king when it comes to getting cheap eats in Singapore.
The food will be local and tasty, and recommended areas for hawker food include: Maxwell Food Center, Chinatown Food Complex and Balestier Market.
Free public performances
Spend some time exploring the city center, riverfront and esplanade, as there are often live performances going on for no cost.
The weekends are the best time to catch one.
Couchsurfing
It's technically a social networking site for travelers, but this sort of thing is popular and generally safe in Singapore.
So, give it a try if you don't want to shell out for accommodation.
4. Dubai
This is a city of absolute luxury, and the people who visit it usually are prepared to spend some BIG bucks.
However, you can get away with a short jaunt to this opulent city without racking up your credit card bill.
Use public transit
Taxis are unusually expensive in Dubai, so make sure to use the metro or the bus system. Keep this in mind when choosing accommodation so you are staying near one of the metro stops.
Cheap hotels
There aren't that many of them in Dubai, but they do exist. Try looking in the older area of the city instead of the newer Dubai Marina.
Also, consider a hotel apartment instead of a resort because the rates can be much cheaper.
Cheap and free entertainment
Artists are being drawn to Dubai from places all over the Middle East. Because of the influx, there are now quite a few creative forms of entertainment available to the public for free or cheap.
Check out The Archive, which throws free events, workshops and concerts, and Dubomedy School, which often offers free comedy events.
Market shopping
Skip the expensive shopping malls and head to the markets instead.
Try the stores in Karama, Bur Dubai and Deira, and don't forget to bargain.
Don't miss out on incredible destinations just because they have a reputation for being expensive.
If you are willing to budget and try alternatives, you can see these places from a unique and affordable angle.
Plus, don't forget there are a ton of resources out there like Groupon, which runs cheap travel deals to places all over the globe.
There are also tons of websites that can help you score cheap flights, too.
Happy (budget) traveling!