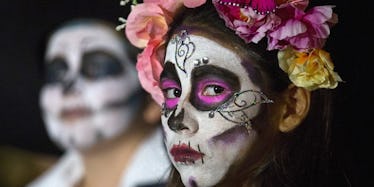 13 Reasons To Ditch Your Halloween Parties For Día De Los Muertos In Mexico
REUTERS
You can keep going on and on about your Halloweekend plans, but south of the border, Mexico is doing it up even bigger.
Every year, from October 28 through November 2, the entire country comes together to celebrate Día de los Muertos, or Day of the Dead.
This year the macabre holiday is expected to be bigger than ever. Día de los Muertos celebrations can be found all around the country, but the biggest festivals are in Oaxaca, Mexico City and Aguascalientes.
If you're feeling a bit tired of the same old Halloweekend plans, we've got 13 reasons you should ditch the US and book a spontaneous trip south of the border this weekend.
1. It's SO colorful.
It's around this time of year that Mexicans break out their true fiesta wardrobes.
From the effervescent papel picado in cemeteries to the elaborate costumes Mexicans show off in parades, the entire country becomes one giant color bonanza this weekend.
2. The candy skulls kick American candy's ass.
Um, excuse me? What are these Twix bars? No, thank you.
I'll take a calavera. The sugar skulls are made from pure sugar and decorated with beads and sequins.
3. You get to wear beautiful facepaint.
Procrastinators, rejoice: All you need for a great holiday costume for Day of the Dead is a facepainting kit.
There's none of this running out to the costume store and elbowing everybody in your way for the last sexy bunny costume.
4. There's a super beautiful vibe that will change your perspective on death.
So here's your lesson on Mexican culture.
For centuries, many in the country have believed that on the night of October 31, heaven's gates open and angelitos (children who have died) come back to play on earth for November 1.
Then, the following day, all the deceased adults come down to earth, too, and it turns into a giant party.
Death isn't so scary once you know you'll be able to come back and party with your fam once a year.
5. It's a HUGE party.
Oh yeah, did I mention it's a party? Just forget about that epic Halloween rager two years ago.
Mexico will put that costume party to shame.
6. You can finally practice your high school Spanish.
I don't just mean "Dos más cervezas, por favor."
Come to Mexico on Día de los Muertos and you'll find yourself using words like ofrenda, calaca and maybe even tequila.
7. You'll bring back stunning souvenirs.
If your three caballeros can't come down and celebrate Día de los Muertos with you, bring them back some fancy sarapes.
You'll be set with souvenirs for YEARS.
8. You'll get another excuse to bust out your floral crown.
No need to wait until Coachella rolls around again.
Bust out your flower crown for the second time this year, paint your face and join the party.
9. This is the first year Mexico City is hosting a parade.
Typically the Mexican capital is more laid back about the whole parade thing, but this year they are stepping it up.
If you happen to be in Mexico's most populous city during this time, you can bet you're going to see Day of the Dead taken to the EXTREME.
10. The Calabaza en Dulce will put your PSL to shame.
If you thought pumpkin spice lattes were as seasonal as your palate could get, you need to go south of the border.
It's basically a PSL melted down into a traditional Mexican candy. Jump on this before Starbucks gets to it.
11. You get to build an altar.
12. THERE IS MARIGOLD TEQUILA.
This beautiful orange, infused liquor is used to make some of the best seasonal margaritas on the planet.
13. Flights are CHEAAAAP.
Now get out there and start playing dead.