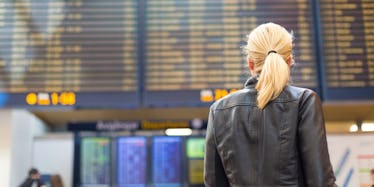 How To Get The Cheapest Last-Minute Thanksgiving Flights, Since You Were Lazy
Shutterstock
Making it through a holiday dinner with your dysfunctional family can be pretty painful.
However, bickering with your siblings and listening to Great Aunt Betty tell you the same story for the 50th time is nowhere near as bad as the pain your wallet endures when you book that flight home.
Yep, traveling during the holidays tends to be chaotic and costly.
But if you're wondering how to get the cheapest last-minute flight home for Thanksgiving, you've come to the right place.
All you have to do is book your flight now.
No really: Stop what you're doing, grab your credit card and buy that shit at this very moment because it's probably the only time you'll be able to score a last-minute flight that won't cost your entire paycheck and your left kidney.
Skyscanner says that the best time to book your flight home for Thanksgiving is the first week of November, so unfortunately, the best Turkey Day flight deals have already been gobbled up.
However, there are a few things you can do to help ensure that you get the cheapest price possible on your last-minute flight home.
According to USA Today, the two most popular (and therefore most expensive) days to travel are the Wednesday before Thanksgiving and the Sunday after Thanksgiving.
If you're looking to save some cash, fly home during an off-peak time like the Monday or Tuesday before Thanksgiving, or Thanksgiving Day itself.
Plus, spending a little extra time with the fam can also ease the cost of your airfare.
In 2014, Kayak reported that people who return home for Thanksgiving after the weekend saved up to 20 percent on their flight compared to those who returned right after Thanksgiving.
Another way you can score a cheap seat is by constantly checking airline websites for special offers and last-minute flight promotions in the days leading up to the holiday.
You can also use social media to help you find savings, since many airlines post discount codes on their Twitter and Facebook accounts prior to blasting out e-mail promotions.
If all else fails, you can just forget about the whole flying home for Thanksgiving thing altogether and just host an epic Friendsgiving feast with all of your equally irresponsible friends who forgot to book a plane ticket home in advance.
After all, your BFFs won't badger you with the annoying, "Why are you still single?" question you're forced to answer at every family gathering.
Citations: How to get last-minute flights for cheap before Thanksgiving (Mic), USA Today, Kayak