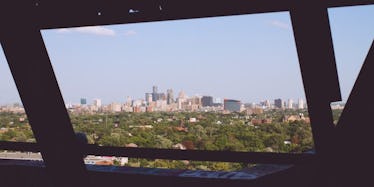 Why You Need To Forget Everything You've Heard And Book A Trip To Detroit
Motor City, Detroit Rock City or The D are a few nicknames for this city, but a lot of people simply call it home.
And even more people are noticing it as a top travel destination for 2017.
There's just something about Detroit. The feeling you get walking downtown is unlike anything you've read in articles or profiles about this city.
From the best of times to the worst of times, Detroit houses resilient and incredible people from all walks of life, and it's quickly growing into the next big metropolis.
So, with all that in mind, here are four reasons to book this as your next weekend getaway:
1. Food scene
Whether you like to Insta Story your food or actually eat your meal, Detroit has some of the best spots in Corktown, Downtown and Midtown.
From sticky ribs and pizza to pork belly sliders, the food options are endless here.
And with super fancy tapas dishes and some of the best grilled cheeses, you'll get your food fix here.
Each establishment also has a different ambience to enhance the experience as a whole. The decor as well as the structural designs prove dining in Detroit is an adventure wherever you go.
2. Sights
Along with a beautiful waterfront, murals and artwork are plastered along buildings, underpasses and homes designed by strangers as well as well-known graffiti artists from around the world.
The Detroit Institute of Arts and Detroit Public Library are architectural structures that are as beautiful on the inside as they are on the outside.
Old downtown buildings and streets throughout Detroit show the city's recent growth as well as the struggles that are still very real for many.
The Heidelberg Project is a historic Detroit art compilation that will sadly be taken down soon, so add that to your list.
3. Sports
Sports are a Detroit staple, and by this time next year, all major sports leagues will be within a five-block vicinity of each other.
Detroit Pistons are moving downtown with the Detroit Red Wings for the 2017 to 2018 season.
You can also see Comerica Park (Detroit Tigers) and Ford Field (Detroit Lions) from the new arena. That's how close they all are.
I suggest going to see an NHL game at the Joe Louise Arena, which is historic in its own right, before it's closed at the end of this season.
Whether or not you're a Detroit sports fan (you should be), the amount of activity and buzz on any given game day within this area is worth the trip.
4. People
The people who have stuck by Detroit through thick and thin are what make it so unique. Their perseverance is what fills this city with so much charm and character.
They've watched Detroit crumble and rebuild, and most of them have brought these streets back to their historic glory.
With the bustling neighborhoods, the growing art scene and the packed restaurants and bars, the negative stereotypes surrounding Motor City are slowly being forgotten.
What's next? Shinola is building a hotel, Shake Shack just opened a location, the M-1 Rail is about make transportation easier and many more businesses are making their way into Detroit.
So, regardless of what you've heard, Detroit is — and always has been — truly incredible. Some people just haven't given it a shot yet.
My suggestion? Book a trip now.