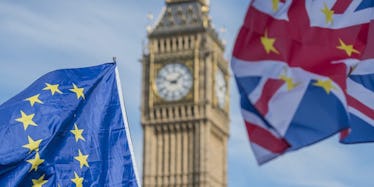 It's Super Cheap To Book London Trip Right Now, And It's All Because Of Brexit
REX/Shutterstock
Another fall in the value of the British pound, caused by the UK making Brexit official, is a huge game-changer for Americans planning a London vacation.
By triggering Article 50 and formally signaling Britain's intent to quit the European Union (EU), Prime Minister Theresa May officially signed the divorce papers, causing further economic instability after a turbulent nine months.
The latest plummet for the pound is bad news for Brits -- but it also means your trip to London just got a heck of a lot cheaper.
But why?
If you haven't been paying much attention to British politics over the last year, you might think Brexit is a budget breakfast cereal, but it's actually the name given for the country's decision to leave the EU.
After a spiteful, divisive campaign (sound familiar?), 17 million Brits voted Leave, but 16 million voted to Remain.
Economic forecasters have been pessimistic about the country's financial future since the shock result, and the value of the pound has fallen from a pre-referendum high of $1.48 in June 2016 to as low as $1.24 overnight.
So what does that mean for your London sightseeing plans?
American tourists traveling to Britain this year will have more cash than they would've had nine months ago.
Suppose you're planning to take $500 in spending money.
Right now, that's worth £399, but as recently as nine months ago, it was only worth £340.
That £59 difference, all caused by the volatility of the pound, is now worth $87 -- which is how much extra you'll have burning a hole in your pocket.
As a comparison, if you're heading to a European country like Ireland or Italy that uses the Euro, a more stable currency, you won't have that extra money as the Euro has stayed in line with the dollar over the same time period.
Obviously there's no guarantee the exchange rate will stay as it is, as the pound has been so hard to predict.
But if the currency continues to suffer, you'll want to snap up that London adventure -- it's a great time to book.