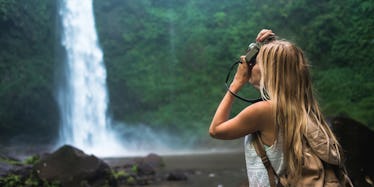 5 Air Travel Tips That Will Get You The Cheapest Flight Every Time
Alexander Grabchilev
Although air travel isn't as expensive as it was before, there are times when we don't want to dip into our savings just to afford a flight back home for the holidays.
People try innumerable tricks to get cheap air tickets and search desperately for flight offers on different travel portals. However, that doesn't always get you the cheapest flights, does it?
So, I've listed five ultimate air travel hacks that'll get you the cheapest flight every single time:
1. Never reveal your travel plans to browsers.
We forget that search engines and analytics are the most powerful tools used to grab customers. Before we really want to book a flight to a particular destination, we have a habit of searching it at least 100 times.
We try different portals, airlines and discount coupons, and we're unaware we're feeding the browsers our travel plans. This information is handled smartly by travel portals and airlines, which results in unreasonable increases in air ticket fares after a few searches.
I recommend you search for flight offers in incognito mode to ditch your digital trail.
2. Plan your travel in advance to save big.
By big, I mean extensively big. If you know where you are traveling weeks in advance with fixed dates, don't delay in getting your tickets booked. The prices have a striking difference in the span of weeks.
Flights booked before seven weeks will save you a lot of money, and this method has worked well for me in the past. Use this trick as the holidays come up, as they always have fixed dates.
3. Sign up for email alerts.
I really hate newsletters. Yet, I have signed up for countless email alerts to seize the benefits of cheap flight offers.
Signing up for airline alerts helps immensely when you have to make a late booking. Air travel companies let their subscribers know about last-minute availability of flight tickets at a special rate. Make sure you sign up for newsletters from your favorite airline as well as travel portals.
4. Travel-savvy people should choose their credit cards wisely.
Businessmen have altogether different travel needs than most other people. In spite of not having the heart of a globetrotter, they top the list of travel-savvy people.
If you lie in good books at your bank, there is a good chance of saving on air tickets using your credit cards. However, the trick to get maximum advantage is to find out about the credit cards favored by your favorite airlines.
For instance, if Air India is your pick to travel by air, SBI Air India credit card will be a smarter choice. Likewise, all airlines have a special relationship with at least one bank. Choose your credit cards wisely if you're always traveling.
5. Midweek bookings offer slashed prices.
Try booking tickets on a weekend, and just see what happens. Several experiments have proved that booking air tickets between Friday and Monday costs you a lot more than other weekdays.
Try to save your seats on a flight until after Tuesday afternoon to get the best deals. Air travel companies start emailing best flight ticket offers after Tuesdays to fill their seats if they're not yet filled.
Tried and tested, these tricks will definitely have you saving money while booking a flight. Make sure you abide by these tactics as much as possible to get the most effective flight ticket offers.