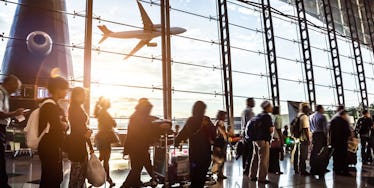 8 Affordable Spring Break Destinations For Those Of Us Who Are Broke AF
Shutterstock
Forget about what that pesky Punxsutawney Phil predicted — spring is here!
If you're getting antsy for a break after months of hibernating in your winter cave, this is the perfect time to plan a short getaway.
For most, the traditional "spring break" seems out of reach due to cost and time constraints. However, you can recharge your batteries and get ready for this new season with a short three-to-four day trip that wont break the bank.
You can join in on the spring migration, and explore a foreign destination on a tight budget.
1. Canada
This year, Canada is observing its 150 anniversary of Confederation. To celebrate, they are offering free admission to any national park for the entirety of 2017. All you have to do is order a Discovery Pass online.
From Banff to Elk Island, Canada's national parks provide rich scenery, rewarding hikes and plenty of opportunity for wildlife spotting.
Mid-March through April marks maple season in Canada. Visit an authentic sugar shack to feast on maple-themed meals, witness maple candy being made directly on snow and even learn to tap your own tree.
2. Cancun
While Cancun is a popular spring break getaway, the immediate surrounding area offers much more than just parties and crowded nightclubs.
Take advantage of the swell of flights and competitive rates at this time to get your proverbial foot into the door of Mexico's Yucatan Peninsula.
Rent a car and visit Las Coloradas, one of just a handful of naturally pink lakes in the world that looks like the water has morphed into cotton candy. You can also stop by Ek Balam, Mayan ruins that are well preserved and less crowded than the famous wonder of the world, Chichen Itza.
3. Puerto Rico
There's never a bad time to visit Puerto Rico, but the weather in spring makes it ideal. With hurricane season long gone, Puerto Rico offers endless sunshine, beaches and relaxing vibes for visitors.
If you go during the new moon, make sure to visit Vieques, and island just off the coast of Puerto Rico and easily accessible from San Juan. There, you'll find a bioluminescent bay that lights up as you stir the organisms swimming within.
4. New Orleans
Mardi Gras may be over, but the party never stops in New Orleans.
It rivals Vegas in 24-hour entertainment and has a southern charm that is unique to Louisiana. Now that the major festivities have passed and hotel rates will be returning to normal, you can snag a good deal in this affordable city.
Make sure you try beignets, with extra powdered sugar, and stroll down Frenchmen Street to hear the best live jazz music.
5. Orlando
Orlando is not normally a cheap trip to make. While Disney is the happiest place on earth, that happiness comes at a price.
However, Disney recently brought back Florida resident prices, so if you live in the state of Florida you can get three days for just $139, which can be used on separate trips.
There are flights from nearly every major airport hub to Orlando and much to see in Florida aside from theme parks.
An hour and a half away from Orlando by car you'll find Three Sister Springs, where you can swim with wild manatees in a largely undisturbed natural area.
6. Paris
Paris is outrageously expensive in the summer, but springtime offers a reprieve from inflated tourist prices. Flights are going for as low as $300 round-trip from NYC in April, and it's a city with so much to do, you'll still feel you got the most out of a long weekend.
Spring is also the best time to visit nearby Mont Saint Michel as they have expanded summer hours without the added crowds of peak season.
7. Washington, DC
Two words: cherry blossoms. People fly across the world to experience cherry blossoms in Japan, but the entire East Coast of the US has that same phenomenon available within driving distance.
Whether you're a photographer, a newly engaged couple or just a nature enthusiast, few sites offer the kind of picture-perfect moment DC does in cherry blossom season, spanning from mid-March to mid-April.
8. Arizona
Arizona is filled with national parks, Native American reservations, slot canyons and even dinosaur tracks. Save money by flying into Las Vegas, a cheap fare from any international airport, and driving into Arizona.
Vegas to the Grand Canyon will only take you about four hours. Once there, go on a burro ride or helicopter tour for some unforgettable views.
Another can't miss destination is Antelope Canyon. This Navajo site is open year-round but is worth visiting after the Spring Solstice, when the sun gets high enough in the sky to shine into the canyon in distinct beams of light for about three hours a day.
Just because you're not in college anymore doesn't mean you don't still deserve a spring break. Treat yourself! Take a short vacation and see how quickly it clears out your winter blues.