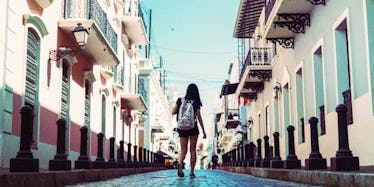 6 US Travel Spots If You Desperately Need Vacation But Can't Really Afford One
If there's one thing that has always held me back from hitting the road and exploring the country, it's money.
I've always assumed traveling to different cities and seeing new places costs an arm and a leg, but I've recently come to terms with the fact I'm completely wrong.
Believe it or not, taking a spontaneous trip without saving for months is possible because cities exist all over the country that offer awesome experiences with cheap amenities -- you just need to look a little harder.
Whether you'd rather bask in the sun at the beach, see a concert in Nashville or booze up in New Orleans -- there are tons of ways to make your dream trip fun and affordable.
If you're struggling to save but dying to get away, check out the following cities.
1. Long Beach Island, New Jersey
I grew up on Long Beach Island and spent every moment I could relaxing on the beaches, hitting the bars and eating bangin' seafood at affordable restaurants that I'd recommend to anyone.
Guess what? I'm not wealthy. I always had a blast, though -- and you can, too.
The gorgeous beaches of Long Beach Island are well worth the trek. They're clean, not too crowded and within walking distance of cheap bars and eateries like the Hudson House and the infamous The Chicken or the Egg (if you're a fan of chicken wings, go there).
It's the perfect island getaway for anyone trying to relax on the beach near delicious, cheap seafood and fun bars.
While you're there, don't forget to climb the lighthouse during sunset. It's well worth the Instagram shot and only costs 1 dollar during the summer.
2. Puerto Rico
I know spending a weekend in Puerto Rico might sound like a wallet-draining trip, but it turns out a vacation here isn't too costly if you know where to go.
While expensive restaurants and bars do exist, there are tons of local eateries where you can eat authentic, delicious dishes for as cheap as 7 dollars per meal.
The same deal goes for activities. There are a bunch of exciting things to do and places to see in Puerto Rico that aren't going to break the bank -- some of them are even free.
Some cheap (and free) examples include exploring Old San Juan, relaxing on the beach or walking alongside the Pinones Mangrove Forest.
Do some research before you go and check out a few Puerto Rican vacation rentals you can crash at with friends.
3. Albuquerque, New Mexico
Let's take a break from the beaches and check out the desert, shall we?
Albuquerque, New Mexico was named among Hotwire's Top 10 Value Cities in 2012, and vacationers who love the outdoors thrive there for a cheap cost.
The costs for different activities in Albuquerque vary, but you can find options ranging from entertainment and live performances for 8 dollars, museums for as cheap as 4 dollars and trips to the zoo, botanical gardens or the aquarium for up to $12.50 (some of 'em are free).
Plus, a trip from the airport to downtown Albuquerque costs roughly $17, which is just as much as you'd spend any other weekend in an Uber.
If you decide to go, plan a trip for October and check out the Albuquerque International Balloon Fiesta.
4. Nashville, Tennessee
Shout out to all the concert-lovers out there who crave a getaway with lots of live music: Nashville is for you.
Lately, Nashville has become quite the destination city for musicians and post-grads alike, but that doesn't mean you can't take an inexpensive trip to the city.
In fact, it was ranked No. 7 in the US Travel New's Best Affordable Destinations in the USA.
If you look beyond the tourism you'll find cheap Southern hotels, dive bars with great music and restaurants with savory Southern dishes (check out Santa's Pub if you're into cheap drinks and karaoke).
Plus, there are tons of activities in Nashville that are completely free.
If you're into the whole "free" thing, you can check out live music at the infamous Bluebird Café, take a musical walk down Honkey Tonk Highway or visit the Grande Ole Opry Museum.
5. New Orleans, Louisiana
New Orleans was ranked No. 4 in US Travel News's Best Affordable Destinations in the USA.
If you're into boozin' up during a wild night out, jamming to live Jazz music on every corner and indulging in authentic Creole cuisine, book a trip to NOLA immediately.
You can visit during Mardi Gras and party on Bourbon Street or start your vacation at the French Quarter, but either way, you're sure to have one hell of a time at an inexpensive cost.
Plus, transportation is cheap AF. Hop on a New Orleans streetcar and get to your destination in no time ($1.25 gets you aboard).
6. Denver, Colorado
Denver, Colorado is the perfect city for anyone who wants to really, really relax on a budget.
It was ranked No. 10 in Time's 10 Cheapest Travel Destinations and is jam-packed with inexpensive places and attractions.
For starters, Denver is the perfect place for city dwellers who share a passion for the wilderness because hiking is widely popular there. Try exploring Boulder's Open Space and Mountain Parks when you're in town.
Oh, and don't forget to check out a weed dispensary, too. You can buy products for super cheap that'll keep you high AF during your stay.
Depending on where you live, the biggest chunk of money you'll spend throughout the trip is going to be on travel and lodging, but you need to stay smart about your tactics.
Instead of flying to one of these cities, why not take a road trip with friends and save some cash?
The same goes for hotels. Instead of booking a lavish suite for the weekend, check out what's available on Airbnb. If you're feeling open-minded, bring some friends along and split the price.
If you follow these steps, you can surely take a trip to any of these locations and spend just as much money as you would during a crazy weekend out at home.
Just make sure, before you book a trip, you do your research and map out the inexpensive activities you're planning on doing.
Stay organized and I guarantee you'll have enough money to see the city and have a blast without breaking the bank.
Citations: Enjoy Yourself Without Breaking the Bank (Puerto Rico Day Trips), Visit Albuquerque (Visit Albuquerque), Forbes Travel Guide's 16 Top Destinations For 2016 (Forbes), http://www.southernsavers.com/top-25-free-things-nashville/ (Top 25 Free Things To Do In Nashville), Best Affordable Destinations in the USA (US Travel News), 10Best free (or almost free) things to do in New Orleans (USA Today), The Best (and Worst) Cities for a Budget Vacation (TIME), 38 Fun & Cheap Things to Do and See in Denver, CO (Money Crashers)