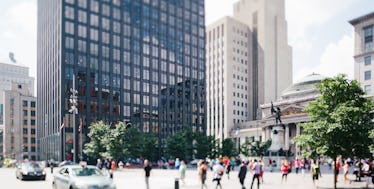 10 Things To Do When Visiting Montreal Beyond Eating Poutine
An airline credit and a one-hour flight from NYC to Montreal had me looking at my 15th country to visit, and no idea what to expect.
So naturally, I resorted to the one place where everyone goes to get opinions and suggestions: Facebook.
Apparently, my Facebook friends were not all that willing to help, since I only got two recommendations (shout-out to my Aunt Ellen). So after asking some co-workers and pals who had traveled up north, I got a vague idea of things to do.
It basically boiled down to: 1. walk around Old Montreal and 2. eat poutine.
While poutine is delicious (I recommend enjoying a big plate), I discovered there's so much more to do in Montreal. Three days of exploring on a solo trip led me to a ton of unique experiences.
If you find yourself visiting Montreal soon, here are 10 interesting things to do beyond feasting on poutine:
1. Visit Au Sommet and get a customized itinerary.
Au Sommet is an observation deck on the tallest building in Montreal at Place Ville Marie. It's unique because every visitor can get a custom "itinerary" of things to do around the city.
You select various attractions on the tablets throughout the exhibit, then when you're leaving it spits out an itinerary with things to do based on what you selected.
My suggestion? Make this your first stop and see what you're dealt.
2. Eat dinner inside a women's prison.
I'll admit, this wasn't the dining experience I was expecting to have in Montreal... or ever.
But leave it to these crafty Canadians to transform the city's first women's prison into an amazing Italian restaurant. Da Emma is one of the best Italian meals you can get in probably one of the most unique settings.
3. Break plates as a stress-reliever.
Talk about a release. This restaurant will actually let you fling, smash and break plates in their designated Romping Room.
It gets better. On the plate the you can write the name of an ex, your boss, a politician, whatever you want! Then fling it around and let out some aggression. Thank you, Robin des Bois.
4. Zipline over an island.
Usually when you think of ziplining it's in a rural setting, with jungles, forests and trees. But Montreal is home to one of the very few zipline circuits in an urban setting.
You can soar right over Bonsecours Island, above the maple trees and look directly at the skyline with Montreal Zipline.
5. Learn to sabre a bottle of champagne.
I LEARNED THE ULTIMATE PARTY TRICK. How many times can you say you learned to open a champagne bottle with a knife when you're on vacation?
La Champagnerie gives you that exact experience: step-by-step instructions on how to slash open a bottle of champagne, safely and accurately. Invite me to your next party and I'll prove it.
6. Wander the streets at night with historical figures.
Whether you're a history buff or virtual reality fan, this is for you. Imagine walking the streets at night and watching projections of historical people dance on the walls.
Cité Mémoire (translates to "Memory City") is an installation of short film projections (of various characters inspired by history) that you watch on the sides of buildings or alleyways.
It's a self-guided "tour," stop at as many projections as you want and listen to the clips through the app. It's really a genius idea... I'm just waiting for America to realize it and do something like this.
7. Dress your own bagel.
Montreal is known for it's bagels. Great! I love bagels, I'm from New York after all.
One of the most famous bagel shops is St-Viateur. For my fellow New Yorkers who are accustomed to ordering their everything bagel toasted with scallion cream cheese, get ready to be turned down.
Strictly manufactory, St-Viateur only sells bagels as-they-are. Meaning you got to butter your own carbs, my friends.
8. Art, everywhere.
I'm talking galleries, museums, murals, modern art sculptures, paintings... all forms of art, almost everywhere I turned.
If you love classic, contemporary or just some good old street art that would give Brooklyn a run for it's money, just wander around the city.
9. Shop 'til you drop.
So. Much. Shopping. So little money.
Rue-Sainte Catherine & Rue-Sainte Paul are two main streets in Montreal that have stores upon stores for shopping.
From modern shops to boutiques and many, many local brands you've never heard of, you can easily come home with a new wardrobe.
10. Get a massage from a spa on a boat.
Bota Bota, spa-sur-l'eau, is a water spa on a boat, located in the St. Lawrence River. You can sit in the hot tub on the boat/spa's deck, overlooking the port and the skyline or experience different pools inside the ship.
After walking around all day and night, the massage treatments are everything you need.
Montreal just has that certain "je ne sais quoi" that makes you fall in love with it. Maybe it's the people, the gorgeous autumn weather or the feeling that you're in Europe rather than Canada.
Whatever it is, these activities will definitely help you experience the unique side of Montreal.