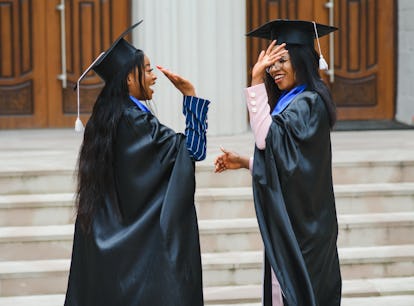 What To Wear Under Your Graduation Gown To Keep You Cool On And Off Stage
Alexa, play "Graduation (Friends Forever)."
Shutterstock
It may be hard to believe, but your time at school is quickly coming to an end. Whether it's high school, college, a GED program, a vocational/skills accreditation program, or something different, graduation is slowly but surely creeping up. While you probably already have the most important part of your outfit — your cap and gown — already covered, the question remains: What will you wear under your graduation robe? There are plenty of adorable dresses, rompers, jumpsuits, and sets that'll all shine underneath whatever color of graduation robe you wear. Taking a look at these could provide the perfect inspo as you plan your own outfit.
Although you're about to embark on a scary, exciting new adventure, graduation is a time of joy. Whether you were a whizz at school or are just glad it's over, there's so much to celebrate. This is a time of savoring the really wonderful friendships you've made over the years, so you already know that come graduation day, there's bound to be a photo shoot (or several) to plan for. That's why you'll need a graduation look to match.
At this point, I've attended three of my own post-middle school graduations as well as plenty of others for family, so I've scoped out plenty of grad 'fits. From channeling your eccentric side to keeping with tradition, there are plenty of paths your can take when it comes to what you'll wear under your grad robes.
One thing's for sure: You'll definitely look good walking across that stage.
We at Elite Daily only include products that have been independently selected by our editors. We may receive a portion of sales if you purchase a product through a link in this article.
Between trendy, classy, and traditional, here's hoping you'll find just the graduation outfit you've been searching for.