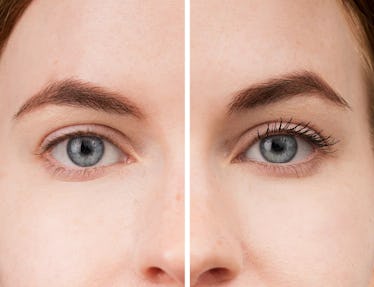 This Nourishing Eye-Care Duo Promises Healthy, Fuller Lashes — And It's Developed By An Ophthalmologist
Twenty/Twenty Beauty set out to deliver big results without harsh or irritating ingredients
We may receive a portion of sales if you purchase a product through a link in this article.
There are few things as satisfying as finding a beauty product that does exactly what it promises — and while using ingredients that are gentle and nourishing. That's the case with Twenty/Twenty Beauty's Lash Out! Mascara and Lash Serum Duo, a potent pairing that boasts good-for-you ingredients to promote longer, fuller lashes. All of Twenty/Twenty's products were developed by ophthalmologist Dr. Diane Hilal-Campo, who created the range after seeing patients arrive at her practice with irritation and allergies caused by chemicals found in common mascaras, serums, shadows, and eyeliners.
Star ingredients in the Lash Out! Mascara and Lash Serum Duo include nourishing vitamin E and moisturizing hyaluronic acid, along with biotin, which helps support keratin production. Just as important, though, is what the set doesn't contain.
Rather than go by the FDA's regulations for cosmetics, which only ban 11 ingredients from use in beauty formulations, Twenty/Twenty Beauty follows the more rigid standards of the European Union, which has banned or limited the use of more than 1,300 ingredients. On that list of ingredients you won't find in the brand's products: carbon black, coal tar dyes, parabens, formaldehyde, and prostaglandin analogues.
How Do You Use The Lash Out! Mascara And Lash Serum Duo?
Twenty/Twenty recommends using the mascara at the beginning of your day, layering on as many coats as you like to get your desired effect. At bedtime, after you've cleansed your face, use a clean finger to gently work the Get Growing Lash & Brow Serum into your brows and lashes. The serum contains a trio of soothing oils — castor oil, coconut oil, and argan oil — to help support healthy lash grow without irritation. Think of it as an overnight mask for your lashes.
Of course, everyone's body is different (and can react differently to even purely plant-based ingredients). If you have sensitive skin or eyes, it doesn't hurt to do a patch test before trying any new product — or even consulting with your own eye doctor first.
What Are Reviewers Saying About Twenty/Twenty Beauty?
"Loved the mascara! It didn't come off aat all when my eyes got a little watery!" — Carol P.
"I have super sensitive eyes. They swell and peel any time I wear makeup. Not anymore! I could not be more pleased!" — Angie C.
"I absolutely love this tinted brow gel. It is unlike any others that I have tried. It goes on so nicely and the color is perfect. And it is good for your eyebrows. Definitely a win win!" — Valerie L.
"After a bad stint of blepharitis, I lost a lot of my lashes on my left eye. I finally got the irritation under control, but i have a fairly significant gap in my lashes. I started using [Get Growing Lash & Brow Serum] about 3 weeks ago and I'm already seeing some tiny baby hairs growing along my lash line. I can't wait to see the results in a couple of months." — Danya
This article was originally published on