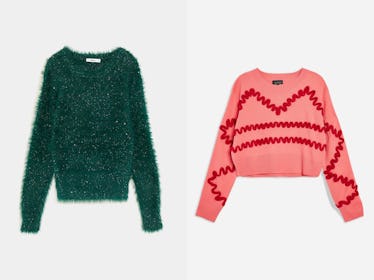 10 New Fall Sweaters That Are Basically Hygge, Because Who Doesn't Want To Wear A Hug?
Zara / Topshop
Boots are great, scarves are wrap-able clouds, and jackets are fun, too. But of all the upcoming cold weather accoutrements that I can't wait to dive into headfirst, these fall 2018 sweater trends pique my interest (and sartorial excitement) the most. There's something so undefinably cozy and comforting about pulling a giant knit thing over your head on days when the windchill feels unsurvivable and instantly experiencing a sensation of wooly warmth. It almost makes me wish summer would end immediately... almost. Fall sweaters, I love you, and I can't wait to spend every waking moment wearing you in a mere matter of weeks.
From turtlenecks to crewnecks, cashmeres to knits, the variations of the classic cozy sweater are endless. Wear them with jeans and sneakers for the perfect casual weekend look or amp them up by pairing them with tailored trousers and sleek heeled booties. If you're like me, you might wear them with your favorite pair of undies and some equally hygge knit socks for the perfect chilly weather pajama alternative. However you style them, you're bound to feel like your pulling on a wearable hug.
Below are 10 of the best fall sweaters to shop now in all styles, colors, and prints. Get hygge with it.
V For Victory
Animal prints are one of fall's hugest trends. This sweater mixes a cool graphic leopard print with a bold blue V flawlessly. It pairs excellently with dark wash denim.
Burn Baby Burn
Burnt orange is one of the best autumnal colors there is. Mix it with an ultra fuzzy knit and you've got yourself the ideal fall style staple.
Glitterbug
This sweater mixes fuzz and sparkle, so basically it's the most festively furry pullover ever?
Wear Your Feelings
Lazy girls need their motto to be wearable, too! This turtleneck knit is ideal for weekend Netflix sessions and days spent laying around with girlfriends.
Back To Black
Because everyone needs at least one staple black knit in their closet. This one features a slightly oversized shape for ultimate comfort.
Squiggly Sweet
Doesn't this sweater remind you of Valentines Day-ized gingerbread men? (The red squiggles look just like frosting to me.) I can't help but to think how rad this sweater would look with a bright red pout.
Winter Bloom
Florals for winter? Absolutely. So long as they're done in soft and cozy form.
Wear The Rainbow
This reminds me of something my grandma might've knitted for me as a kid, which makes it that much cooler. It's got a cool vintage feel to it and boasts the brightest of color palettes.
Snow White
A white sweater is also a must, and this one features playful little pom pom balls attached all over it. It would look beyond cool with denim and gold hoops.
Line Drawing
If you're looking for a sweater that's chic enough for the office, look no further. This one would look so, so good with sleek black trousers and black loafers. It's balloon-arm shape is the icing on the cake.