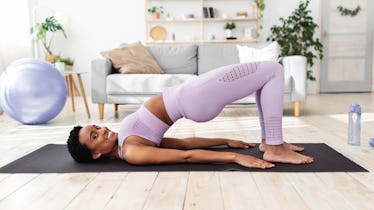 The 7 Best Thick Yoga Mats, According To A Yoga Instructor
We only recommend products we love and that we think you will, too. We may receive a portion of sales from products purchased from this article, which was written by our Commerce team.
Shutterstock
If you've ever felt the pain of a hardwood floor against your knees in table top pose, you've probably realized the importance of a well-cushioned foundation. "A thicker yoga mat may be beneficial to practitioners with knee issues," Jacqui DeFlorio-Reid, certified yoga teacher and studio founder, wrote in an email to Elite Daily. "Some students also find that they offer more comfort for savasana as well as seated asanas." Still, the best thick yoga mats aren't just about thickness; they combine all the features of a great yoga mat, including balance and slip resistance.
After a single full class on an unsupportive mat, you may be tempted to buy the thickest one you can find. Do yourself a favor and resist that urge: "One must be mindful that thicker yoga mats may impede their ability to feel more stable in balancing postures," DeFlorio-Reid wrote. "Some thicker yoga mats are actually very 'squishy,' almost like a Tempur-Pedic mattress, [and] this can actually invite injury, especially in standing asanas."
Yoga practice is meant to ground you so there needs to be some stability underneath you in order to create a strong foundation, especially for balancing poses. For that reason, the best thick yoga mats strike a middle ground between comfort and solid support. According to DeFlorio-Reid, "A cushioned yoga mat doesn't need to be [that] thick if the materials create a firmness. This denseness may lend some mats to be heavier than others, but their ability to support one in the asana should be of greater importance." Lastly, "In addition to the thickness I also like to check for grip," DeFlorio-Reid added, which allows the "student to feel stable on their hands and feet," even if they're sweating.
So, how thick should your yoga mat be?
A standard yoga mat is usually around 1/8 inches thick (or 3.17 millimeters). Anything over that is considered "extra-thick," but be careful — manufacturers toss this phrase around for basically anything over 3 millimeters, so check your measurements before you buy. If you're not sure where to start, these seven yoga mats ease the pressure on your knees, spine, and wrists without compromising on grip or balance. The first is a recommendation from DeFlorio-Reid, and the last six have rave reviews from real yogis.
Expert:
Jacqui DeFlorio-Reid, certified yoga teacher and studio founder
This article was originally published on