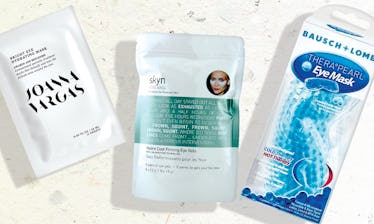 The Best Eye Masks For Dry Eyes, According To An Eye Doctor
We only recommend products we love and that we think you will, too. We may receive a portion of sales from products purchased from this article, which was written by our Commerce team.
Elite Daily/Amazon
Dry eyes can strike seemingly out of nowhere, from something as routine as staring at your computer screen for too long or taking a red-eye flight. Even something as simple as the weather or air conditioning can lead to dry eyes that burn and sting, which, in addition to being uncomfortable, is just plain annoying. While eye drops are definitely a must-have, you can also help your eyes recuperate with one of the best eye masks for dry eyes. To find out more, Elite Daily spoke with Dr. Jen Wademan, an optometrist at Bidwell Optometry in Folsom, CA.
What Are The Best Eye Masks For Dry Eyes?
"Dry eye symptoms are more prevalent now more than ever with [increased] screen time, changing temperatures, and differing climates," says Dr. Wademan. "An eye mask can have a number of benefits depending on if it's used as a warm compress or cold compress. A dry eye mask used as a warm compress can reap benefits with symptoms of Dry Eye (when used consistently). The heat can help the tiny oil glands in and around the eyelid and eyelash area — these glands help combine to make a healthy natural tear that, [with] each blink, helps lubricate the front surface of the eye. When used as [a] cold compress, it can help with redness, swelling and even eye allergy-like symptoms," she explains. (It goes without saying that you should schedule an appointment with an eye doctor if you're experience chronic eye dryness, or if you're experiencing styes or blepharitis, which is just a fancy term for eyelid inflammation.)
Some of the situations that make eyes feel tired (think low humidity or a long flight) can leave the skin around your eyes dry, too. If that's the case, you can benefit from using an eye contour patch (which are often referred to as eye masks). They usually have a cooling effect that feels refreshing, and they feel even better when stored in your fridge or freezer.
When using any sort of product on or near your eyes, it's important to implement proper hygiene practices. As Dr. Wademan says, "Anything that comes in close contact with the eyes — since irritation and infection can occur — needs to be clean, whether that be a warm compress, wash cloth, [or] hands! When using eye creams or gels, make sure product is not expired. Look for expiration dates and toss if expired. If products have a funny consistency or smell, throw away," she advises.
While having compresses and masks on hand is great for treating the uncomfortable symptoms of dry eyes, you can also make certain lifestyle changes to prevent eye dryness in the first place. As Dr. Wademan notes, "Prevention is key and often signs can show up before symptoms, so it's best to maintain yearly comprehensive eye exams, that way your eye care provider can assess the front part of the eye and recommend options to maintain healthy moisturized eyes."
How Can You Prevent Dry Eyes In The First Place?
With that in mind, here are a few "eye-healthy habits" you can practice now to prevent symptoms of dry eyes, according to Dr. Wademan:
"Stay hydrated! Drink recommended daily intake of water."
"Take breaks if on a screen for a prolonged period of time. The 20/20/20 rule is a great, easy-to-remember, tip."
"Preservative-free artificial tears to use as needed, especially if the temperature is changing or varies in the environment you are in."
"Remove eye makeup every night! This is a big deal when it comes to symptoms of dry eye!"
"If wearing lash extensions, clean, clean, clean! There are a handful of really great products that help keep those lashes clean and eyes bright!"
"Treat any underlying skin conditions — conditions like rosacea can have a big effect on dry eyes. Oftentimes, skin or overall health conditions can correlate to dry eyes so treating any underlying conditions can subsequently have a positive impact on dry eyes."
Whether you're looking for a sleeping mask, a heated compress, or some refreshing under-eye patches, you'll find all of those and more in this guide to the best eye masks for dry, puffy eyes — including a few picks from Dr. Wademan.
Expert:
Dr. Jen Wademan, O.D., optometrist at Bidwell Optometry in Folsom, CA
This article was originally published on