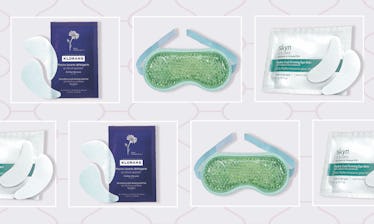 From Gel Masks To Cooling Patches, These Are The Best Treatments For Puffy Eyes
Elite Daily/Amazon
No matter how regimented of a skin-care routine you follow, there will come a day when you wake up with eyes that look (and feel) puffier than usual. The causes for swelling are numerous and as common as enjoying too many cocktails (and too little water) the night before, not getting enough sleep, or simply experiencing seasonal allergies. While you can try to treat puffiness with eye creams, using one of the best face masks for puffy eyes is the better choice if you're looking for immediate results.
There are two primary types of face masks that can be used to treat puffy eyes. First are those gel-filled masks that resemble ice packs, but are designed specifically to sit around your eyes. To take down swelling, it's essential that you use these cold, so store them in your fridge or freezer. The gel beads many of these masks contain were designed to stay colder for long periods of time so that you can even preemptively treat swelling by wearing one to bed.
Your other option is under-eye patches, which are typically meant to be worn for about 15 minutes. Often infused with skin-softening ingredients that'll make your makeup glide on easier, under-eye masks are perfect for wearing while you get ready for the day, since you can walk around in them. Though there are tons of eye patches on the market, the ones that are best for puffiness will typically be made of made of hydrogel. To maximize their de-puffing abilities, store them in the fridge.
To stop swelling in its tracks, scroll on for six of the best face masks for puffy eyes.