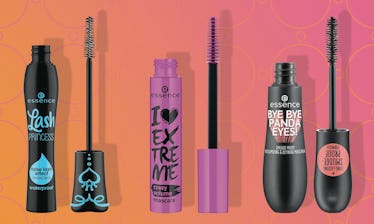 The 4 Best Essence Mascaras
$5 mascaras? No wonder this brand is a cult favorite.
Elite Daily/Amazon
We may receive a portion of sales if you purchase a product through a link in this article.
Every once in a while, a makeup brand comes along that's impossible to ignore, and Essence is one of said brands. Collectively, the best Essence mascaras have earned hundreds of thousands of reviews across the internet, most of them overwhelmingly positive — so which one is best suited for your specific makeup routine? Some would argue that you can't go wrong with any of them (especially considering they're all cruelty-free and about $5 each), but pinpointing your personal lash goals may help you to narrow down the best pick for you.
What To Consider When Choosing An Essence Mascara
While just about every Essence mascara is highly rated, affordable, PETA-certified cruelty-free, and designed to emphasize your lashes, different products serve different purposes, and that's due to their slightly varying formulas. Some are waterproof, some resist flaking and smudging, some are designed for falsie-like volume, and some provide a little bit of everything.
Shop The Best Essence Mascaras
In a hurry? These are the best Essence mascaras on Amazon:
1. The Overall Best Essence Mascara: Lash Princess False Lash Effect Mascara
2. The Best Waterproof Essence Mascara: Lash Princess False Lash Waterproof Mascara
3. The Best Essence Mascara For Volume: What The Fake! Volumizing and Lengthening Mascara
4. The Best Smudge-Proof Tubing Mascara: Bye Bye Panda Eyes Tubing Mascara
Also Great - An Essence Mascara Primer: Volume Booster Lash Primer
Scroll on for the four best essence cosmetics mascaras on the market, according to thousands upon thousands of high reviews. (There's also a primer at the bottom, which you can partner with your favorite mascara — Essence or any other brand — to condition your lashes and boost volume even further.)
This article was originally published on