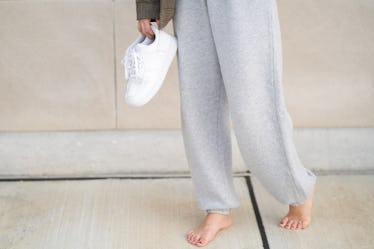 The 7 Best Shoe Protector Sprays For White Shoes
We only recommend products we love and that we think you will, too. We may receive a portion of sales from products purchased from this article, which was written by our Commerce team.
Laura Vlieg / Shutterstock
It's no secret that white shoes stain easily, but using one of the best shoe protector sprays for white shoes will save you the headache of trying to salvage the white after the damage is already done.
How To Care For White Shoes
When it comes to caring for white shoes, remember that prevention is key. Using a protectant is the quickest and easiest way to minimize the inevitable damage they face when venturing outside — including scuffs, stains, and sun or water damage. Protectant sprays are particularly important for white-colored shoes that make dirt extra visible as well as those made with sensitive fabrics (think leather or suede).
How Shoe Protector Sprays Work
They work by coating shoe fibers with a shielding outer layer that protects against weather and wear. Some are made specifically to prevent water damage or stains, while others are more apt to shield the fabric from color-fading UV rays. Keep in mind that some sprays are better suited for certain textures, so if you're planning to use yours on a finer fabric, make sure you choose an option that's safe for sensitive materials.
Here, I've rounded up the seven best shoe protector sprays for white shoes. They're sure to keep your favorite white kicks looking vibrant and new — and they're all available on Amazon. Pick your favorite below, and, relatedly, check out the best suede shoe cleaners to use beforehand.
Shop The Best Shoe Protector Sprays
In a hurry? These are the best shoe protector sprays for white shoes.
This article was originally published on