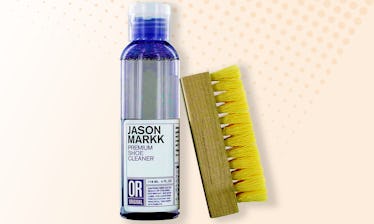 These Are The Best Suede Shoe Cleaners You Can Get On Amazon
Amazon/Elite Daily
Polishing up your delicate shoes with the best suede shoe cleaners means you won't have to worry about further damaging your favorite kicks. And let's face it: They make the process of minimizing wear and tear a whole lot easier.
Whether your most comfortable booties have seen better days or you're just trying to have some cleaner on deck, don't forget that suede requires a gentler cleaning solution — and one that's made with delicate leather fabrics like it in mind. Luckily, there are plenty of options out there.
To help narrow your search for the best one for you, here, I've compiled a list of safe-on-suede shoe cleaners that'll get the job done. Some are sprays that come with other useful tools (a cleaning brush for scrubbing out tougher stains, for example), while others aren't even sprays at all. Plus, they're all super easy to use and relatively affordable considering how much money you'll save by extending your shoes' lives.
Also, here's a major pro tip: After you're done cleaning your favorite suede shoes, be sure to lock in all your hard work with a protectant spray. That extra step will keep 'em looking fresh and stain-free for longer.