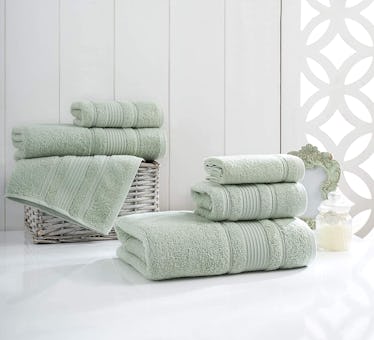 The 8 Best Quick-Dry Bath Towels
We only recommend products we love and that we think you will, too. We may receive a portion of sales from products purchased from this article, which was written by our Commerce team.
Not only are quick-drying bath towels highly absorbent and resistant to mildew and odors, but they also can dry and be ready to use again within a few hours. And, when shopping for the best quick-dry bath towels, you'll want to look for either microfiber or cotton towels.
Why microfiber towels? Because the fibers in a microfiber towel are much thinner than the fibers in your standard towel, they have around four times as much surface area as a same-sized cloth towel. Not only does this extra surface area allow them to absorb more water, it also means they dry up to three times as fast as a classic cloth. (More surface area exposed to air equals faster drying times.)
Bonus: Because their fibers are so small, microfiber towels are great at removing makeup, and beauty experts also recommend microfiber towels for quickly drying your hair without damage.
But, microfiber towels are more expensive and are not quite as soft as cotton. If these are deal breakers for you, look instead for a thin, lightweight cotton towel. While not as quick-drying as microfiber, a cotton towel that's on the thinner side will still dry far faster than its thick and plushier counterpart.
In a hurry? These are the best quick-dry bath towels:
1. The Overall Best: Polyte Quick Dry Microfiber Bath Towel, 4-Piece Set
2. The Runner Up: JML Microfiber Towels, 6-Piece Set
3. The Most Affordable: AmazonBasics Quick Dry Towels, 3-Piece Set
4. The Best Textured Set: Grayson Collection Bath Towels, 4-Piece Set
5. The Best Plush Turkish Towels: Qute Home Turkish Cotton Towels, 4-Piece Set
6. The Best Peshtemal Towels: Clotho Turkish Towels, 6-Piece Set
7. The Luxe Bath Towel: Onsen Bath Towel
8. The Best Travel Bath Towel: 4Monster Fast Drying Travel Towel
With that said, scroll down for the best quick-dry bath towels you can buy on Amazon, and get ready to turn your bathroom into a spa.
This article was originally published on