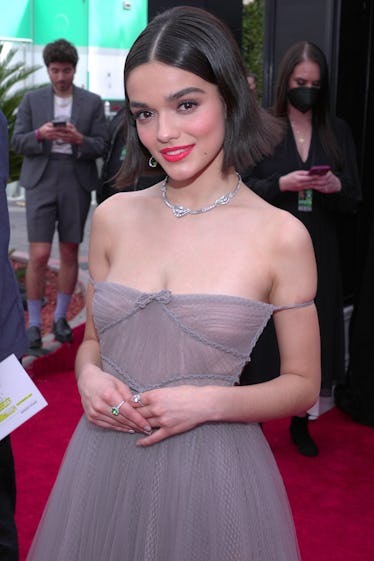 Rachel Zegler's Grammys Dress Is Nothing Like Her Oscars Gown
Except the designer, that is.
Kevin Mazur/Getty Images Entertainment/Getty Images
Rachel Zegler is *slaying* her first awards season and she is doing it with the help of the same designer. For her first trip down the Grammys red carpet, the West Side Story star wore custom Dior Haute Couture in a shimmering, scintillating periwinkle gray. The sheer paneled gown is a unique take on a look that first went down the Dior runway in a less saturated shade of tan. While the skirt of the gown was ultra-sheer on the runway, Zegler opted for a more filled-out silhouette with more filled-in tulle for extra coverage from the waist down.
While Zegler also wore custom Dior Haute Couture on the Oscars red carpet, the two looks couldn't be more different. Zegler's Oscars gown hugged her figure and showed off most of her back. It was slinky, beaded, and the perfect canvas for a glamorous, bombshell moment. While the actress and singer looked stunning on the Grammys red carpet as well, the vibe is lighter and airier. That said, Zelger is still showing plenty of back, albeit in a different style. Her Grammys gown has some beautiful Grecian braided detail across the back.
The actress accessorized with a pair of Tiffany & Co drop earrings and a nearly choker-length diamond necklace, both of which are fit for a princess. And while a close look at both the necklace and the earrings reveals some delightfully art deco-inspired detailing, the whole look was giving major princess vibes. Perhaps a nod to Zegler's future role in Disney's live-action Snow White?
Glam-wise, Zegler complemented the cool tones of her gown with a vibrant, highly saturated lip, rosy cheeks in a bright pink pigment, and a classically done eye in shades of sultry silver. Zegler's makeup artist for the evening, Kale Teter, shared a close-up of the actor's glam and I am fully committed to abandoning matte lipstick for the exact satin, almost glossy lip that Zegler wore to the Grammys.
Overall, the look was joyful, which might have something to do with the fact that Zegler was invited (on time) to the Grammys. In fact, she's set to perform in the Stephen Sondheim tribute. Regardless of why she's so happy and glowing, Zegler looks stunning in Dior Haute Couture, regardless of the color, style, or occasion.