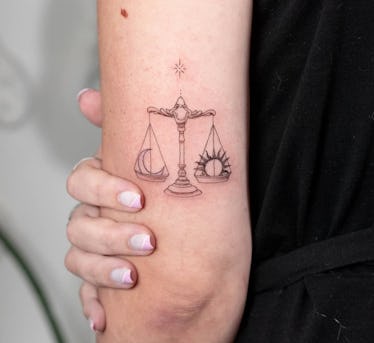 Libra, These Delicate Tattoos Are *Just* What You've Been Looking For
Don't be sad, go get a tattoo. It may be a catchy TikTok audio, but low-key, it's always sound advice, as there's no better way to celebrate any type of life event than with a cute tattoo. And with your birthday season in full swing, Libra, it may be time to get some zodiac-inspired ink.
Libra season runs from Sept. 23 to Oct. 23, so you've likely been feeling invigorated and excited about the future. It also means that you have plenty of time to make your next tattoo appointment. As this star sign's all about balance and harmony, you're going to want a dynamic tattoo that flows perfectly with your aesthetic and body.
From the scales to the constellation to its classic symbol, or even something totally unique to you, there are many Libra tattoo designs you can get permanently inked on your skin, so everyone will know your zodiac sign at first glance. But, Libras are also known for their indecision, so it might be hard for you to actually settle on a tattoo. Fret not, because you can find the perfect tat for you with the Libra tattoo ideas below. Since your zodiac sign is ruled by Venus, you're definitely going to want at least one of these beautiful images with you forever.
Libra season only comes once a year, but this air sign deserves attention 365 days with a thoughtful tattoo.