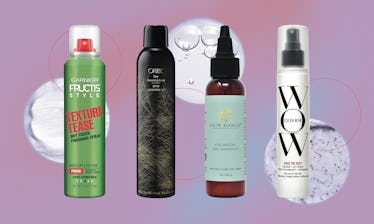 7 Alternatives To Hairspray (That Work Just As Well)
For whatever reason you don't want to use hairspray, these similar alternatives have got you covered.
Elite Daily/Amazon
We may receive a portion of sales if you purchase a product through a link in this article.
Some hairstyles undeniably require a heavy-duty hairspray — a top knot wouldn't be as sleek without a generous mist, or try getting your ringlet curls as Clara in the Nutcracker just right without using at least half a bottle (trust me on this one and count your blessings if you didn't experience it firsthand). Sure, hairspray has come a long way since my Nutcracker days in terms of providing a finish that isn't quite as sticky, crunchy, or flaky, but it will still give you a pretty stiff (and oftentimes drying) finish. For everyday styling, the best hairspray alternatives offer up light hold with a few added benefits. Those with finer hair textures may prefer prepping (and finishing) their hair with dry shampoo, texturizing spray, or even a volumizing product to absorb oil, add body, and give the hair grip. For people with curly hair who are looking to add definition, a mousse can refresh your curls while adding moisture and a touch of hold, too. And when it comes to creating sleek updos, pomades are a handy option for all hair types.
Because hairspray contains alcohol (unless otherwise noted), it can leave your hair dry and brittle. Additionally, hair colorist Sharon Dorram told Elite Daily that the alcohol that's typically found in hairspray (and other hair products housed in aerosol bottles) can strip the color from your hair faster. If prolonging your hair color and preventing moisture loss are your primary concerns, rest assured that you'll find several alcohol-free styling sprays and non-aerosol products on the list ahead.
Shop The Best Hairspray Alternatives
In a hurry? Here are the best hairspray alternatives:
1. Best Dry Texture Spray
If I could only have one styling product for the rest of my life, hands down it would be this Oribe Dry Texturizing Spray. The multi-tasking spray builds volume while a copolymer blend adds hold and zeolite crystallines work similarly to dry shampoo to absorb oil. No matter how much of this you layer into your hair, it's completely invisible, and it's also full of beneficial humectants and fruit extracts that work to nourish your hair and protect it from environmental aggressors. It's also the best fragranced product you'll ever come across, featuring notes like Sicilian orange, tuberose, jasmine, and sandalwood.
Hold: Light Beneficial Ingredients: Glycerin, Sunflower Seed Extract, Hydrolyzed Wheat Protein, Kiwi Fruit Extract, Aloe Leaf Extract, Ginger Root Extract, Mango Fruit Extract, Watermelon Fruit Extract, Lychee Fruit Extract, Edelweiss Flower Extract Size: 8.5 oz. Alcohol-Free: No Cruelty-Free: Yes
Relevant Review: "[…] When I blow my hair out and curl it, I use this in place of hairspray to give my hair some texture and fullness without making it sticky. Makes it look natural and slightly messy in the best way. Not to mention it smells amazing. It's expensive but completely worth it. Hairspray/texturizer/dry shampoo all in one — honestly, will never buy another brand again for any of the above three items. Just buy it, you won't regret it."
2. Best Drugstore Dry Texture Spray
If you rely on dry texturizing spray as frequently as I do, staying stocked up on Oribe can become a pricey habit. That's where this drugstore alternative comes in at less than $10 a bottle. This Garnier Fructis' Texture Tease Dry Touch Finishing Spray gives hair grip and airy volume, making it perfect for creating tousled, windswept waves. You'll get a little bit of hold with this, but because it's a dry spray, you can load up on misting it through your hair when you need a stronger hold without making your hair unbrushable. Plus, it comes in a set of two, so you don't have to worry about running out anytime soon.
Hold: Medium Beneficial Ingredients: Lotus Flower Extract Size: 3.8 oz. Alcohol-Free: No Cruelty-Free: Yes
Relevant Review: "I like how dry this spray goes on. It adds volume and provides the perfect amount of hold for my super-fine hair. I can't use strong-hold hairsprays or sprays that go on wet and tacky. They just weigh my hair down. The scent of this product is nice and it's super inexpensive. I'm so glad I found it."
3. Best Dry Shampoo
Dry shampoo isn't going to add any hold to a finished hairstyle, but it is amazing for giving grip to finer hair textures prior to styling while also preventing oil from making your hair look greasy and flat. Amika's Perk Up Dry Shampoo is one of my go-to formulas because it gives me a bit of volume without leaving any white residue behind in my dark hair. The vegan and cruelty-free formula uses rice starch to absorb oil, and it's infused with sea buckthorn fruit to nourish the scalp and hair (something that's especially helpful as dry shampoo tends to be, well, pretty drying).
Hold: None Beneficial Ingredients: Sea Buckthorn Seed Oil Size: 5.3 oz. Alcohol-Free: No Cruelty-Free: Yes
Relevant Review: "This stuff smells amazing and makes my fine hair have so much volume. I curl my hair with the Beachwaver, then spray this at my roots and a little on the curls and my hair lasts for days and smells amazing. It's the best dry shampoo by far."
4. Best Powder Dry Shampoo
If you're looking for a dry shampoo alternative that's non-aerosol and alcohol-free but will still give your hair some texture and eliminate grease, this is it. Hair Dance Volumizing Dry Shampoo is a loose powder that you can dispense directly along the roots of your hair (then, lightly massage the powder into your hair and give it a good brushing to fully blend it in). In addition to being alcohol-free, it's also made without potential irritants like talc and and perfume (lavender oil gives the dry shampoo its light scent). Instead, the dry shampoo powder uses rice starch and silica to absorb oil, colloidal oatmeal to soothe and nourish your scalp, and olive leaf extract for added moisture.
Hold: None Beneficial Ingredients: Colloidal Oatmeal, Olive Leaf Extract Size: 1 oz. Alcohol-Free: Yes Cruelty-Free: Yes
Relevant Review: "I was looking for a dry shampoo that wasn't in an aerosol/spray form, and this is perfect! I have dark brown hair, and it's one of the few white powder dry shampoos that actually disappears. […] While some people complain about dry shampoos making their hair feel "dirty," us fine-haired girls want our hair to have some texture and feel dirty (not to be confused with greasy) in order for it to have volume and hold backcombing and styles. This definitely does that. […]"
5. Best Volumizing Spray
For anyone looking to add more volume to their hair, swap out hairspray for a root-lifting product instead. Color Wow's Raise The Root Thicken And Lift Spray can be used to prep your hair while it's still damp or it can even add a volumizing boost to hair that's already dry. (Either way, you'll want to hit your hair with a blow dryer for better, longer-lasting results.) The multi-tasking spray also gives your hairstyle some hold without leaving it feeling sticky or stiff, and perhaps most importantly, it serves as a heat protectant ahead of using styling tools.
Hold: Medium Beneficial Ingredients: Panthenol, Hydrolyzed Keratin Size: 5 oz. Alcohol-Free: No Cruelty-Free: Yes
Relevant Review: "I have used this product for years. Stands up well to Florida's humidity and rain. Very versatile in its different applications and uses. Can hold a wavy style or just uplift at the roots. Scrunching hair while drying leaves hair soft not hard like hairspray."
6. Best Curl Mousse
From wavy to curly hair types, if you're looking to add some weightless definition to enhance your natural texture, try using a mousse on your hair while it's still damp (and prior to blow drying). John Frieda's Frizz Ease Curl Reviver Mousse is free from drying alcohols, and instead uses a formula that's infused with panthenol to add moisture and shine back to your hair. Like all John Frieda products, the mousse also helps to keep unwanted frizz at bay.
Hold: Light Beneficial Ingredients: Panthenol Size: 7.2 oz. Alcohol-Free: Yes Cruelty-Free: No
Relevant Review: "I have [natural] curly hair so I bought it for this specifically. It makes my curls soft and loose and not crunchy. I also learned that putting it in and blow drying it out adds volume and hold curl better from rollers or a curling iron. I use it on all my styles now!"
7. You May Also Like: This Alcohol-Free Hairspray
If you're staying away from hairspray because you're trying to eliminate drying alcohols from your hair care routine, there are a few alcohol-free takes on traditional hairspray (and more brands are starting to follow suit). Pantene's Lightweight Finish Alcohol-Free Hairspray is a drugstore option that provides soft hold to help seal in any hairstyle while still being light enough to brush through. Plus, at just $5 per bottle, it's a bonafide steal.
Hold: Light Beneficial Ingredients: Panthenol Size: 7 oz. Alcohol-Free: Yes Cruelty-Free: No
Relevant Review: "This is the best hairspray I have ever purchased. I have spent lots of money on salon brands that don't measure up to this hairspray. It holds amazingly but hair still has bounce."
About The Author
Marissa DeSantis has worked as a beauty writer and editor for nearly 10 years. Her pieces can be found across print and digital publications like Bustle, Evening Standard, Teen Vogue, and InStyle.