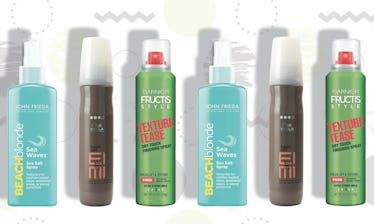 This Must-Have Hair Styling Product Combines The Best Of Dry Shampoo & Hairspray
Elite Daily/Amazon
When it comes to multitasking hair heroes, texturizing spray is perhaps the most important styling product to keep in your arsenal. With just a few spritzes, you can refresh a second- (or third-) day blowout, add volume and grip to hair that has trouble holding a curl, and even help braids and tousled updos keep their shape. To figure out the best texture spray for your specific hair type, however, you first want to break down the two main types of formulas: dry texturizing sprays, which have become increasingly popular, and salt sprays, the classic styling product synonymous with beachy waves. Both types will add some lift and grit to your hair, but otherwise, they work very differently.
Like its name suggests, dry texturizing sprays should be applied to dry hair. These sprays use a dry mist that includes minerals like zeolite and/or silica to absorb excess oil (similar to dry shampoo), while also adding texture. A hybrid volumizing spray, dry shampoo, and hairspray, some dry texturizing sprays can even offer protection from sun damage and pollution if you look for a formula that contains antioxidants.
Then, you have your sea salt sprays, which have been a longtime staple for achieving beachy waves. These texture-enhancing mists get sprayed through damp hair to help add lift and encourage waves as your hair dries. If you find that salt sprays are too drying on your hair, you can try a sugar spray instead. Similar to salt sprays, sugar will give your hair more texture, but with a shinier finish, compared to salt spray's matte look.
Scroll on to discover the best texturizing sprays for every hair type and budget.