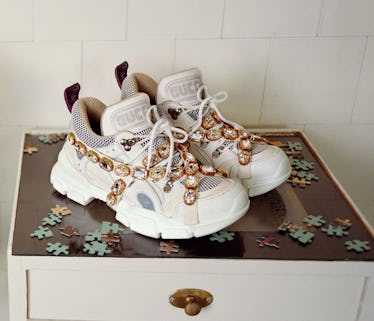 Instead Of Boots, Shop These Trendy Fall Shoes That'll Give You Seriously Happy Feet
If you're like me then you've got a collection of boots that you pull out year after year every time autumn hits. Classic boot shapes in classic colors tend to be pretty season-less, so it's rare I invest in a new pair. But what about fall 2018 shoe trends that aren't boots? I still like to buy a new pair of something each season so I can still feel unquestionably in the know and this year, the de rigeur styles are pretty unique. Would I rock them all? Probably not. But there are definitely a few standouts that I need asap.
My beloved Vans officially just died after a seven-day camping music festival that was basically in the center of a giant dust cloud each day (Pig-Pen would've DIED), which means I am definitely on the market for a new pair of sneakers. Luckily, sneakers are among the trendiest new styles for fall, along with slingbacks, shoes boasting square toes, animal print styles, and updated Mary Janes. Quite the motley crew, but that's what makes it so great! No matter what your style is—from street chic to vintage cool—there'll be something you'll fall for.
Check out the five hottest non-boot shoe trends of the season below—which will be your pick?
Hi, Dad!
Love 'em or hate 'em, dad sneakers are here to stay in all of their awkward, chunky-soled glory. I totally dig the fact that they bring a whole new look to the sneaker and dress pairing (Stan Smiths and other similar white shoes have been long played out, imho) and the way they look when worn with structured and tailored looks. As for whether or not I'd actually wear them on the daily? The jury's still out on that one. Still, I'm pretty into the styles below.
Hail Mary
Forget everything you thought you knew about classic Mary Janes and reimagine them as one of the glammest and quirkiest shoe styles ever. Whatever image you just conjured in your head, I guarantee you the IRL iterations are even better. The classic buckle-up shoes got modern updates via beautiful buckles, patent finishes, and glam detailing, meaning they're no longer a retro snooze. Trust me.
What a Square
Square toes are the coolest and subtlest trend on the list. I love their wearability and the fact that they come in an array of styles and silhouettes. If you love wearing trousers in the colder months, this is a great way to ensure your shoes still get notices below the hemline.
Animal Instincts
Bring out your inner wild child in animal print shoes. Pumps, flats, stilettos, sneakers—you name it, they come in animal print for fall.
Back At It
Slingbacks also got a very 2018 update thanks to glitzy details, square toes, animal print, bow detailing, and more. (Can you see how much the trends overlap?!) They're glam enough to wear to a black tie night out but can also be thrown on with an LBD or black skinny jeans for a chiller look.