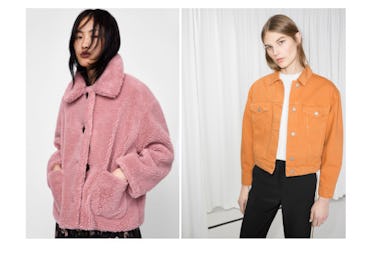 The Best Fall Jackets Under To Cure Your End Of Summer Blues
Zara/& Other Stories
Summer is, sadly, flying by and while it's almost time for your last pool float 'gram, that also means that fall is almost here. Pumpkin spice lattes, booties, and my favorite thing about autumn – jacket weather! To ease your end-of-summer blues, here are the best fall 2018 jacket trends.
To get you in the fall mindset, picture this: You're wearing your favorite jeans, your best booties, a cozy sweater, you're even drinking that aforementioned pumpkin spice latte, but something's missing... A jacket! Sure, you could dust off last year's layer that you already practically wore to shreds, or you could treat yourself to something new. You deserve it!
I'm talking a plethora of plaid, affordable vegan leather, more shearling than you can imagine, animal prints, and it's all so affordable. Aren't you excited for those crisp fall days, now? No more instant sweat the second you walk outside, your makeup will actually stay in place all day long. But mostly, cooler weather means you need to wear more clothing which means more of an excuse to shop! As much as I love summer, it's my least creative fashion season because it's usually just too d*mn hot to wear anything resembling an "outfit." So I'm welcoming fall with open arms, which will soon be draped in one of these fab jackets.
Avec Les Filles
Completely faux, and oh so cool. This one is probably warm enough to get you through the early stages of winter, too.
H&M
This jacket doubles as an outdoor layer and an indoor blazer for when you need to look extra sharp.
I.AM.GIA.
As far as I'm concerned, athleisure should never go out of style, and this celebrity-loved brand always does it right.
Wild Fable
Wild Fable is one of Target's new brands and it's so good. This millennial pink windbreaker is at the top of my shopping list.
Elvi
A thin trench-coat (that also comes in plus-sizes) for those in-between, still kind of summer days.
Zara
Inject some color into your fall wardrobe with this pale pink fluffy cocoon. It's looks so comfortable I legit want to sleep in it.
Torrid
Go old school in this Disney bomber jacket.
Topshop
Can't decide between a denim jacket and some shearling? Now you don't have to!
Boohoo
Try not to feel fancy AF in this leopard coat.
Forever 21
I can definitely imagine Olivia Pope in this cropped trench coat.
& Other Stories
PSA: Denim jackets don't have to be blue!
Urban Outfitters
Camo is the ultimate neutral, and this jacket is made from up-cycled fabric so each one is unique.
Welcome to fall!