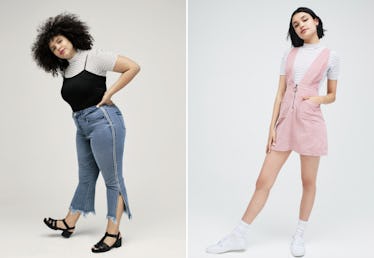 Target's New Affordable Fashion Brands Just Made '90s Style Infinitely Cooler
When it comes to super affordable clothing lines that you can shop literally anywhere in the country and in multiple locations within each state, Target's fashion brands are a step above the rest. They consistently prove to be trend-forward and diverse while still catering to the masses and typically offer something for everyone. Brands like Mossino and Xhilaration have been on Target's shelves for as long as I can remember thanks to their consistent relevancy and steady fanbase. The retailer clearly knows what people want. Bullseye!
So it should come as no surprise that the retailer's two new offerings are similarly ace, except in my opinion they just might be better. Called Wild Fable and Original Use, they were designed with young adults in mind and offer an array of different clothing items and accessories. Along with the two clothing brands, Target also launched an electronics and tech accessories brand this year. Of the releases, Mark Tritton, Target's executive vice president and chief merchandising officer, said in a press release, "We've been on a journey to reimagine our portfolio of owned and exclusive brands for more than a year now, and we've built a ton of momentum with guests of all ages. We're thrilled to add Wild Fable, Original Use and Heyday to our mix, giving our younger guests relevant, inspiring products they'll only find at Target."
Indeed, both Wild Fable and Original Use look to be incredibly trendy and even a little edgy compared to Target's usual offerings and have a bit of a Forever 21-meets-Urban Outfitters vibe. No piece from either collection is over $40, though, meaning they're even cheaper than the aforementioned retailers. Check out some offerings from each brand below and make sure to head to Target when the collection drops tomorrow, August 1, to snag a piece for yourself.
Wild Fable
As described by Target in the press release, "This trendy line of young women's apparel, accessories and shoes are meant to mix, match and make your own." The collection includes everything from a multi-wash denim jacket and plaid co-ord to a pink corduroy dress and sporty separates. Everything is definitely mix and match-able and has a decidedly '90s feel to it, meaning it's all very on-trend. Scroll down and you'll see what I mean.
Original Use
"We're empowering young men to experiment with and refine their personal style with this street-meets-vintage-modern brand," says Target of Original Use. Although it's intended for guys, I'd honestly wear most, if not every style I've seen from the line thus far. It definitely has a streetwear feel to it, which was undoubtedly inspired by the mass influence streetwear is having on the fashion industry as a whole, and includes but with a super fresh and minimalistic twist. Among my favorite pieces from the line are a light purple long-sleeved graphic shirt and a camouflage bomber jacket.
Target's get some serious style game, no? Next time you're thinking of heading to the mall to do some seasonal shopping, consider them instead.