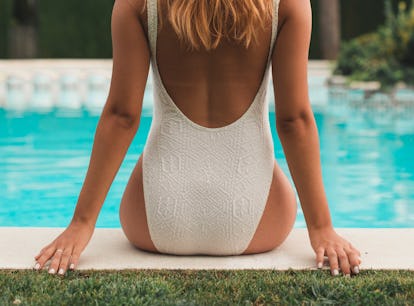 Spray Tan At Home Like A Pro With These 13 Products Under $30
Westend61/Westend61/Getty Images
It's a fact universally acknowledged that if you want a sun-kissed glow, it's much better to fake it than risk serious sun damage. Even though self-tanning and spray tanning at home is safer than tanning outdoors under the sun's rays, there are still some minor aesthetic risks involved. Your spray tan could turn out streaky, your self-tanner could leave you orange all over, stain your hands and nails, or you could wind up with patchy coverage. That's why, when it comes to at-home self-tanning and spray tanning, having a game plan backed by experts and thousands of 5-star reviews, is key.
Tanning at home is a multi-step process. There's a laundry list of things to do before, during, and after your tan to ensure it looks exactly how you want it. Exact step-by-step requirements will vary depending on the products you use and the desired results, but there are three hard and fast rules:
Exfoliate beforehand
Use a mitt during
Moisturize after
"Follow the instructions that are on your self-tan and have trust in the product," says Sophie Evans, celebrity self-tanner and St. Tropez skin finishing expert. Another pro tip from Evans: "Make sure you have all your tanning essentials."
Also, take a nice deep breath. It's really not that complicated. Just make sure you tan your entire body. "One common mistake is forgetting to tan your ears and the back of your neck," says tanning expert Jordan Cook. If you're worried about how to get those hard-to-reach areas evenly tanned, don't worry. These tips and tools will have you covered.
Consider these 13 products the perfect tools for your tanning arsenal. According to expert tips by Evans and Cook and Amazon reviews, they'll make self-tanning easier for you every step of the way — before, during, and after your tan.
About The Experts
Sophie Evans is a celebrity tanning artist whose celebrity clientele includes Ashley Graham, Margot Robbie, and Halsey. Jordan Cook is a self-tanning guru. After working as a makeup artist with brands like M.A.C. Cosmetics and Urban Decay, Cook became the first global tanning expert for St. Mortiz.
We at Elite Daily only include products that have been independently selected by our editors. We may receive a portion of sales if you purchase a product through a link in this article.
Experts cited:
Jordan Cook, Tanning Expert
Sophie Evans, Celebrity Self-Tanner and St. Tropez Skin Finishing Expert