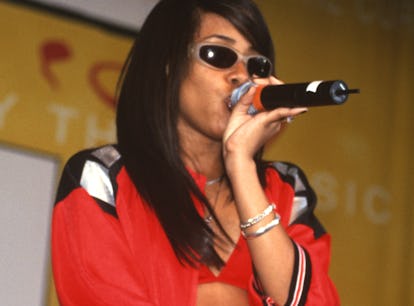 5 Easy '90s Halloween Costumes That You Might Want To Wear All The Time
These are actually so cute.
Tim Mosenfelder/Archive Photos/Getty Images
When I think of the '90s, I think of a few things: the colorful patterns that dotted every fashion aesthetic, the standout accessories that ruled the decade (gradient sunglasses, anyone?), and the iconic makeup that pretty much solidified any unforgettable look. Between the matte eyeshadows, the heavily-lined lips, the brooding rockstars, and the stylish pop stars that rose to fame, the '90s were bursting with style inspiration. Lucky for you, that means settling on an easy '90s costume for Halloween this year is simpler than ever.
From figures and groups like Naomi Campbell and Nirvana to classic movies like The Craft, the '90s is arguably the easiest decade to source for Halloween costume content. And considering both the fashion and the beauty of the '90s and Y2K are experiencing a heavy renaissance, you might even decide to wear your look well past spooky season.
Each of the five '90s costume ideas below is super easy to throw together with clothes and accessories you probably already have around the house. And if not, head on over to your nearest thrift stores now before all of the good vintage cardigans and knee-high socks are taken. Overall, with a little creativity and the right attitude, you can master any of these easy '90s looks for Halloween that definitely would have broken the internet if the internet as it is now was a thing at the time.