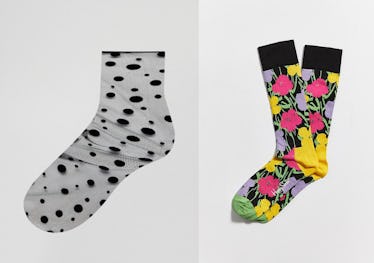 Forget About Boots & Bags—These Socks Are The Cutest Accessories For Fall
ASOS / Urban Outfitters
When it comes to cold weather dressing and accessorizing for a new chilly season, we always jump to the bags, hats, sunglasses, shoes, and jewelry that will be "in." But what about the most practical accessory that we literally wear everyday from October through March? Cute fall socks are the most underrated accessory of all and deserve both a huge shoutout and round-up of their own. They keep our feet warm and are one of the most playful yet subtle ways to infuse a look with pattern, color, and kitsch—you can probably tell from my enthusiasm about the intimate sartorial object that my sock collection is massive.
To me, socks are the coolest and most creative wearable thing to style a look with. Slipping some netted socks with a cool pattern on them underneath your strappy heels will change your entire look, while letting socks with a cute print poke out from beneath your cropped jeans adds some subtle and quirky cool. And even if your socks aren't ever seen by anyone but yourself, they're still super cute and can be super silly. Okay, I'm done waxing poetic about socks now (and I'm sure you're over reading it) — shop 14 of my favorite styles below.
Tight Knit
Cozy knit socks are a must in anyone's cold weather wardrobe. These ones are super chinky, subtly colorful, and hygge AF.
Garden Party
Flowers for fall? In sock form? Groundbreaking. Wear these with chunky platform sandals in a clashing floral dress and you'll nail hipster cool.
Meow Mix
If you're not one who likes their socks to be a visible part of their look, why not go for super nerdy-cute animal socks?
About Face
Graphic, artistic, and with a neutral palette. These are the coolest little wearable masterpieces ever.
Best Buds
In case you didn't hear, '90s favorite brand Laura Ashley is back with a bang. These socks are all kinds of grungy floral cool.
Have a Heart
Motto tees were 2017's piece de rigeur. Fall 2018 is all about motto socks, specifically those promoting love. :)
Seeing Spots
This is the type of sock I would 100 percent wear under chunky sandals or strappy heels. With a little black dress and red lips, it'd be my go-to on an autumnal night out.
Pattern Play
For the lovers of all things bright, bold, and weird, these will satisfy your sock cravings. With jeans, a black top, and classic Vans, they'll look beyond cool.
Cheetah, Cheetah
Animal prints are trending for fall, so why not invest in a pair of cheetah socks? In both navy and gray, they'll go with anything.
In Full Bloom
Andy Warhol's most flor-escent (haha) masterpiece, just in sock form.
Heavy Metal
Party socks! I'd wear these with a midi skirt, cute booties, and matching silver jewelry.
Read Between The Lines
That '70s Show-approved.
Groovy, Baby
Tie dye is also weirdly having a comeback, and I am all about it. Wear these to cold weather festivals or the office alike.