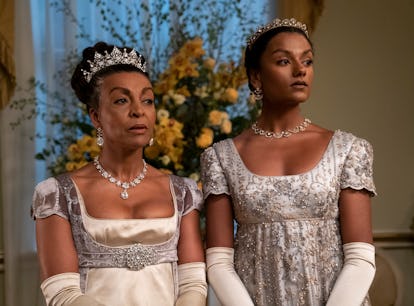 12 Bridgerton-Inspired 'Fits You Can Wear For Ramadan
Celebrate the lunar month as the diamond of the season.
Liam Daniel/Netflix
While Bridgerton viewers held their breath to see whether Anthony Bridgerton would go through with his wedding to Edwina Sharma in Season 2, Episode 6, "The Choice," I was visually inhaling the dresses worn by the wedding guests and brainstorming how to work one of the Bridgerton styles into my own Ramadan 2022 wardrobe. The dazzling dresses from Bridgerton Season 2 served elegance, embellishment, and most importantly, modesty, offering a refreshing respite from typical Ramadan occasion wear.
While many women spend their time at home focusing on prayer and spirituality during Ramadan, others keep a packed social calendar, much like the queen's chosen diamond, with dinner parties and formal commitments that require a closet with plenty of options. Some retailers call this season the "Ramadan Rush," as they see an increase of Muslim shoppers seeking new modest designs for these frequent gatherings.
Too often, brands fall back on traditional Middle Eastern silhouettes when creating styles for Ramadan; think floaty kaftans, abaya-inspired capes, and roomy coordinating sets. While these garments might reflect traditional Arabian style aesthetics, they can get monotonous. Bejeweled, tent-like kaftans are simply not going to cut it for everyone. That's where Regency era fashion from Season 2 of Bridgerton comes in.
Bridgerton fashion offers elegant and decadent alternatives for Ramadan 2022. The show's long, sumptuous dresses filled with floral motifs and intricate beadwork offer exquisite solutions for women who seek modest fashions, especially because occasion- and evening wear are retail categories that have been historically challenging to shop for and sift through.
"Whether it be a slit, deep V, cutout, or open back, there is almost always one element of a mainstream evening gown that makes it inaccessible to the modest consumer," says Liza Sakhaie, founder of modest fashion platform The Reflective. "Bridgerton sheds light on a different side of evening wear. Although the dresses might not bare so much skin, it's their elegance and femininity that draw attention to suitors on screen and earns the admiration of viewers off screen."
"What makes Bridgerton style so iconic is its femininity and romanticism," Sakhaie adds. "Soft pastels, empire-waist gowns, corsets, collars, and florals all make a comeback, and we're seeing this style begin to penetrate the fashion industry."
Ramadan fashion often strikes a beautiful balance between femininity and glamour, much like the show's main characters exude through their clothing on screen. In Episode 6, Kate's minimalist lilac gown was the perfect pastel tone for summer, while Penelope's lemon-shaded gown — a refreshing change from her usually loud shades of yellow — invoked youthful optimism. Even the queen's embellished crystal and pearl-adorned bodice could inspire a one-of-a-kind outfit for Eid, the festive holiday that wraps up the month of Ramadan. Anyone seeking a suitable marriage between coverage and eye-catching aesthetics while planning outfits for intimate iftar (an evening meal with which Muslims end their daily Ramadan fast) or swanky suhoor (a meal consumed the morning before fasting) festivities is bound to have a ball with 'fits inspired by these dreamy dresses.
We at Elite Daily only include products that have been independently selected by our editors. We may receive a portion of sales if you purchase a product through a link in this article.
Experts cited:
Liza Sakhaie, founder of modest fashion platform The Reflective