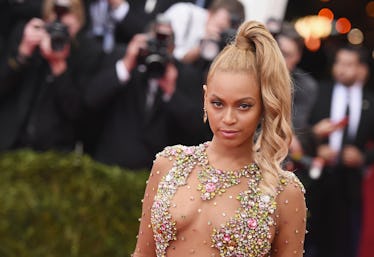 35 Of Beyonce's Most Stunning Outfits That Prove She's The Only Queen Among Us
The fits start coming, and they don't stop coming.
Mike Coppola/Getty Images Entertainment/Getty Images
There are some celebrities whose knockout looks you could count on two hands. But rounding up Beyoncé's most stunning outfits? That's a nearly impossible feat. The artist has been on the scene for two decades and has had so many hit singles and albums that the number of stages and red carpets she's stepped out on is big enough to jumble the brain. Of course, there's been an incredible look to go along with each one of those occasions, so you can imagine that her outfit repertoire is pretty unparalleled.
Also important to note is that Beyoncé's style has always been refined to perfection. While so-called naked dresses, gowns dripping in jewels and embellishments, and mermaid silhouettes have constituted many of her red carpet looks, each one has its own unique spin to it. And when she does eschew her glamorous gowns for something a bit more unexpected, it's always a visual treat. Below, treat yourself to 35 of Beyoncé's most show-stopping looks. Spanning from present day all the way back to 2003, the list is a walk down memory lane and will remind you of many moments that made the performer the straight-up icon she is today.
From 2000 to now, Beyoncé stays the absolute, most fashionable star in the world.
This article was originally published on