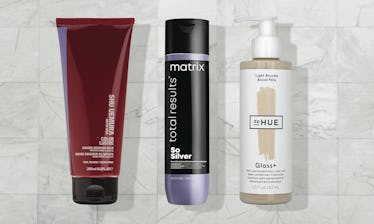 The Best Toners For Blonde Hair, According To An Expert
We only recommend products we love and that we think you will, too. We may receive a portion of sales from products purchased from this article, which was written by our Commerce team.
Elite Daily/Amazon
Blonde hair, whether natural or dyed, requires a lot of maintenance. "A blonde should use a toner to perfect the raw color of pre-lightened hair," explains Cyd Koyanagi, a hair color consultant and master colorist at Warren Tricomi Salon in Greenwich, CT. "For some, their hair lightens to the perfect color, but for most there needs to be some refining, which is where a toner is useful. They're also quite [an easy way] for someone to refresh their hair in between services." Additionally, the best toners for blonde hair "can refine, condition, and provide shine when someone's hair color has been over-worked either from chemicals or life," Koyanagi says.
However, toners for blonde hair aren't one-size-fits-all. There are tons of different toning products out there, each one individual to a specific shade of blonde — so you really need to do your research before investing in one. According to Koyanagi, "Those who would like a cooler [color] should look for [a product with] violet tones to eliminate or control gold or brassy tones. For those who enjoy a more golden blonde, look for gold or 'warm' in their toner to accentuate the gold, as shampooing, blow drying, hot tools, products, and the sun can alter a corn silk or sunflower tone." Meanwhile, "Strawberry blondes should look for an ultra-light copper."
Also, Koyanagi says that when shopping for a toner, you should look for something that reads as semi-permanent and has little to no ammonia. But even when taking all of these precautions into consideration, you still have to be careful. "At home toning is a scary business," Koyanagi warns. "The person who is toning has to make sure that the color they are trying to achieve is actually what the product will deliver. If someone thinks their hair is too orange or yellow when it actually isn't, it can result in an over-toning, which [can turn] grey, or worse — blue or purple." Because of this, Koyanagi recommends using shampoos or conditioners to tone your hair at home. They're "much easier to use, practically fool-proof. If there is a mistake, at least it will wash out in a shampoo or two."
If you're still feeling confused, it's always a good idea to set up a consultation with a professional to guide you in the right direction. Or, you can simply read ahead to discover Koyanagi's picks — and a few by longtime bleacher, yours truly — for the best toners for blondes.
Expert:
Cyd Koyanagi, a hair color consultant and master colorist at Warren Tricomi Salon in Greenwich, CT
This article was originally published on