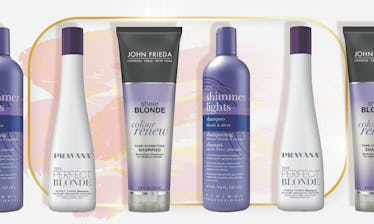 This Is The BEST Purple Shampoo According To 4,000+ Amazon Shoppers (& It's Only $13)
Amazon/ Bustle
Purple shampoos tend to come in a violet bottle, but many users are surprised to find that the formula itself is unmistakably purple too. That's for good reason — purple is directly opposite yellow on the color wheel, so the pigment effectively cancels out brass. But all purple formulas aren't created equal when it comes to the richness of their pigment. The best purple shampoos truly neutralize brassiness and not just lighten it, and the key is to make sure the stuff inside the bottle is a deep purple, and not a lighter pink or lavender.
Having said that, it's worth mentioning these powerfully purple formulas will dye your hands a Veruca Salt shade if you apply them without proper protection. That's why I've also included a top-rated box of disposable latex-free gloves below.
Also before you start shopping, it's important to note that purple shampoos are quite potent, so you use them less on a weekly basis than your average shampoo purchase. For some, that means a budget option is the way to go (like the John Frieda 2-Pack below). However, if you're looking for an option free of sulfates, it might be worth it to spend a little more for a bottle without them.
With all that in mind, the purple shampoos here are all highly rated on Amazon and have beauty insiders raving.