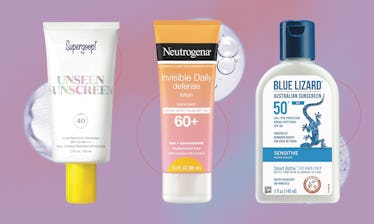 The Best Sunscreens For Tattoos
We only recommend products we love and that we think you will, too. We may receive a portion of sales from products purchased from this article, which was written by our Commerce team.
Elite Daily/Amazon
When it comes to preventing skin cancer and protecting the overall health of your skin, the importance of wearing sunscreen is nothing new. But if you have tattoos, SPF is even more essential. "Wearing sunscreen will help protect the tattoo from fading, sun damage, and keep your tattoo looking fresher, longer," Shaughnessy Otsuji, co-owner and lead artist at Studio Sashiko, tells Elite Daily. The best sunscreens for tattoos will mostly depend on your personal preferences (in terms of the formula and feel), but dermatologist Dr. Jeremy Fenton notes that you'll want an SPF of at least 30. "Once you have an SPF of 30, it doesn't offer much benefit above that as long as you are applying it [on] thick and regularly," he explains. "However, for those [who] aren't slathering the sunscreen on regularly, or [are] skimping on the amount they apply, there may be a benefit to SPF 50+," he says.
The Experts
Shaughnessy Otsuji is the co-owner and lead artist at Studio Sashiko in Los Angeles, CA and Langley, Canada. Otsuji studied at Emily Carr University of Art + Design and has worked in the body modification and tattoo industries since 2007. She specializes in using tattooing techniques to create natural-looking eyebrows, as well as restorative areola tattooing for clients who have undergone mastectomies or breast reconstruction surgeries.
Dr. Jeremy Fenton, M.D., is a board-certified dermatologist specializing in general and cosmetic dermatology, laser therapy, Botox, and fillers. He serves as the medical director for Schweiger Dermatology Group and is a clinical instructor at Mt. Sinai Hospital in New York City, NY. Dr. Fenton received the Marion B. Sulzberger Award for excellence in dermatology while attending the NYU School of Medicine, and he completed his dermatology residency at Vanderbilt University, where he was also chosen to serve as chief resident.
Post-Tattoo Care
If you recently got a tattoo, you'll want to avoid sun exposure entirely for at least two weeks (though Dr. Fenton says that one month is preferred). "The healing stage of a tattoo will vary, as the skin heals differently," Otsuji says. "Fresh tattoos are open wounds and can be extra sensitive to sunlight while healing," she explains. "During this time, you should avoid the sun by covering the new tattoo with long sleeves, pants, a hat, sunglasses, or any other clothing items to cover it up." You'll also want to avoid sweating and swimming while your tattoo fully heals, and be sure to follow the aftercare instructions from your tattoo artist. "Taking care of your tattoos is important because it will keep [them] looking fresher, longer," Otsuji stresses.
Mineral Vs. Chemical Sunscreen
Both Otsuji and Dr. Fenton share that mineral sunscreens, which sit on the skin's surface, are generally a better option. "It doesn't degrade in the sun, and it is less likely to cause any type of skin reaction or irritation," Dr. Fenton says of mineral sun blockers, particularly, the ingredient zinc oxide. Otsuji points out that some people might not like the white tint that mineral formulas leave behind, in which case a chemical sunscreen might be your preferred option. "Chemical SPF formulas can be easier to apply without feeling sticky or greasy, but certain chemicals may exacerbate skin conditions such as rosacea or melasma," she cautions. "It is always a great idea to check in with your skin care specialist about any concerns before starting a new chemical product," she suggests. Either way, don't forget to reapply. "Keep on reapplying every two to three hours, or after swimming or sweating," advises Dr. Fenton.
To find out whether a sunscreen is mineral or chemical, look on the back of the bottle for the following active ingredients:
Mineral sunscreen ingredients: zinc oxide, titanium dioxide
Chemical sunscreen ingredients: avobenzone, oxybenzone, octocrylene, homosalate, octisalate, octinoxate
Shop The Best Sunscreens For Tattoos
In a hurry? Here are the best sunscreens for tattoos:
1. The Overall Best: EltaMD UV Sport Broad-Spectrum SPF 50
2. Best Invisible Sunscreen For Tattoos: Supergoop Unseen Sunscreen SPF 40
3. Best Facial Sunscreen: Neutrogena Invisible Daily Defense Sunscreen Lotion SPF 60+
4. Best Stick Sunscreen: CeraVe Mineral Sunscreen Stick
5. Best Sunscreen For Sensitive Skin: Blue Lizard Sensitive Mineral Sunscreen
Experts:
Shaughnessy Otsuji, co-owner and lead artist at Studio Sashiko
Dr. Jeremy Fenton, M.D., board-certified dermatologist